This article is more than 1 year old
Google's Austro-Hungarian ambitions laid bare
Chrome recruits Maximilian von Hapsburg
Our shock revelation yesterday that Google had redrawn the map of Europe to apparently cede several European nations to a Greater Germany provoked a flurry of comments suggesting what on God's Green Earth the search monolith was up to: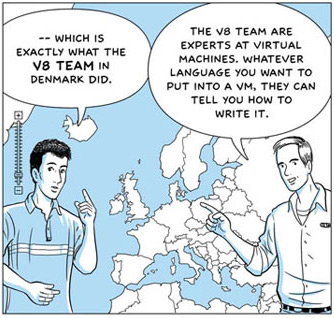 The consensus was that Google had in fact created a Danish superstate, described by Jolyon Ralph as "a dramatic change in European geopolitics only brought on by the power of their incredible Javascript engine".
This makes sense, given that the Danish VM outfit behind this aggressive expansion of Danish Lebensraum is rather ominiously called "V8". We assume Google has housed V3 to V7 in the bowels of an extinct volcano manned by boilersuited Asian technicians for deployment in the planned subjugation of the remainder of the free world.
Alternatively, here's reader Mike Bremford's take on the matter: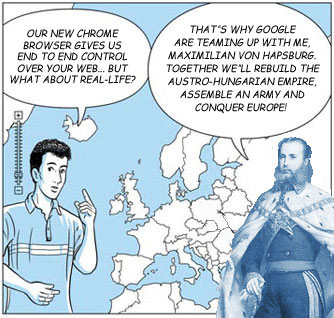 Well, we'll leave you to decide what's really going on down at der Googlebunker, but in the meantime have a shufti at our take on what the rest of the Chrome comic book is actually telling you, right here.
It's good stuff, and the Vulture Central Black Ops department has invited further reader submissions to lay bare the sinister subtext to Google's cartoon capers. Get to it, and remember - the fate of the internet if not the whole galaxy may well be at stake. ®