This article is more than 1 year old
Getac B300 rugged laptop
No mucking about with this hard-boiled hardware
Review This laptop is squarely aimed at those who find themselves biding their time waiting for a Sahara sandstorm to pass, or need to check email while hanging upside down from an offshore oil rig.
The first impression is that this thing looks like it should come with handcuffs, like one of those top secret briefcases only seen in movies. The silver-grey magnesium alloy chassis and rubber protrusions do nothing to disguise the take any punishment nature of the device.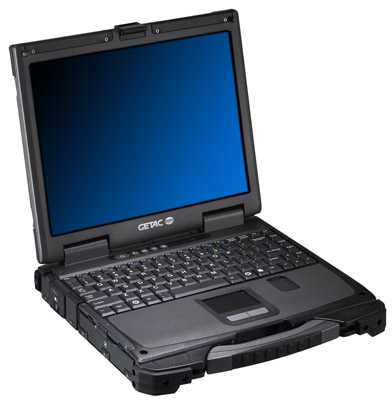 Getac's B300: hardcore, heavy and high-priced
To help make carrying it a heck of a lot easier, there's a retractable handle on the front, which can be folded back to keep it out of the way during use. The keyboard and trackpad are also designed for use in less than ideal conditions.
Unlike the recently reviewed E100 tablet PC, which is designed for portability, the B300 is not light. Weighing in at 3.56kg, it's a hefty device. Although quite heavy, the weight will be offset by the lightness of your wallet after forking out a minimum of £1600 ($3500) for the thing. The configuration of our review unit would set you back around £2468 ($4690)
Every port and opening is sealed to protect it from the elements. Even the fingerprint reader below the keyboard has a slide cover.