Getac B300 rugged laptop
No mucking about with this hard-boiled hardware
Behind the rubber seals, you'll find the various connectors and interfaces. On the left is the removable optical drive and battery. The right side is home to the hard drive bay, a pair of USB ports, PC Card and ExpressCard slots, memory card reader, four-pin Firewire port, external aerial connector, Wi-Fi switch, microphone and earphone sockets, and Ethernet and modem jacks. On the back is the power socket, an extra USB port, docking connector (behind its own slide) and a pair of serial ports.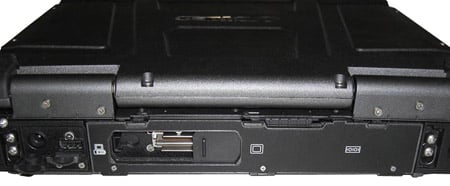 At the back, the docking connector is protected behind its own slide
All of this protection ensures that the B300 complies with the US Defence department MIL-STD-810F standard and the IP54 ruggedness standard. What this boils down to is that it's resistant to dust, water spray, humidity, shock, vibration and can operate in temperatures from -20° to 60°C.
From a technical point of view, one of the most impressive things about the B300 is the lack of any ventilation. This laptop packs in a pretty hefty Intel Core 2 Duo processor, which can get pretty hot at the best of times. Judging by the feel of the entire case after a few hours use, it seems that Getac uses the chassis as a kind of heat sink. It doesn't get dangerously hot or uncomfortable to use, but it does get pretty warm after a while.
As well as the 1.6GHz Intel Core 2 Duo L7500 CPU, the review-unit B300 packs in 2GB of DDR 2 memory, a 120GB hard drive and an Intel 965 integrated-graphics chipset, dynamically sharing up to 384MB of system memory.
PCMark05 Results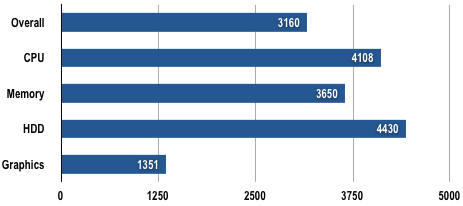 Benchmarks run at 1024 x 768
The specs deliver pretty much the performance we were expecting, scoring around 3160 in PCMark 05. Obviously for this price, you could purchase a much more powerful machine, but it would lack the robustness of this model.