Getac B300 rugged laptop
No mucking about with this hard-boiled hardware
The integrated graphics core means that this is never going to handle complex 3D graphics, but it does score a fairly respectable 550 in 3DMark 06, which means it will handle video and general graphics perfectly adequately.
Thanks largely to the choice of processor, the battery performance is pretty impressive. Under a continuous heavy load, the 7800mAh battery lasts pretty much exactly four hours before giving up. Under general use, owners will get between six and seven hours of runtime, depending on screen brightness and wireless activity.
The B300 also sports an 'Eco' button which will help extend the battery life by turning off all the communications modules, lowering the screen brightness and slowing down the processor. Those in need of even more duration than that can opt to replace the optical drive with a second battery.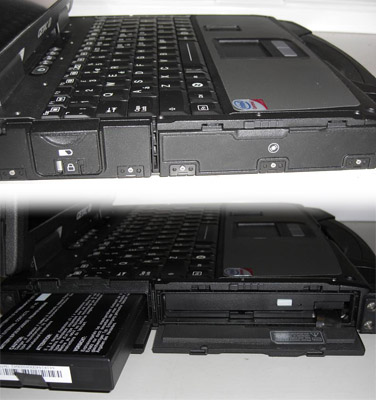 The optical drive can be replaced with another battery for extended runtime
We were pretty impressed by the E100's 800cd/m² sunshine-readable screen, but the B300's 13.3in, 1024 x 768, 1200cd/m² screen is truly astonishing. That said, this is an optional extra - as standard, the unit comes with a 500cd/m² panel.
As well as the usual components, this model can come with optional GPS and cellular connectivity modules.