Getac B300 rugged laptop
No mucking about with this hard-boiled hardware
Above the screen is a button that automatically cranks the screens brightness to the maximum, perfect for the glare of outdoors, but will practically blind you if you hit it in a darkened room. As with the E100, the B300 has a light sensor that can be used to automatically adjust the screen's brightness depending on the ambient lighting conditions.
Perhaps the most peculiar thing about the B300 is that buyers may configure it with an optional touch-sensitive screen. Touchscreens are normally reserved for tablet PCs. The only reason we can figure to use a touch screen on the B300 is to facilitate navigation while wearing gloves or when using the touchpad is difficult.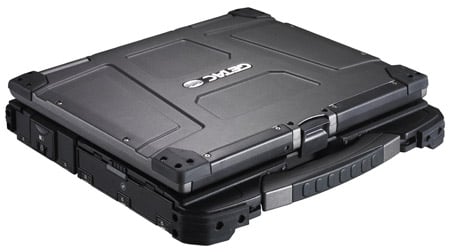 There's a retractable handle on the front, which can be folded back
Like everything else with the B300, the touchscreen is hardened against the elements. This means that although it's resistant to scratches, dust and water, the screen requires a pretty solid prod in order to register a touch.
All this means that the B300 is a niche product, and the hefty price tag pretty much precludes anyone just looking for a laptop that can take a few knocks. It's pretty much solely in the domain of those who need to use a computer in unpleasant or extreme environments, people probably not all that interested in speeds and feeds as long as the machine can get the job done.
Verdict
The B300 is about as tough as you can get and still be functional. Although expensive, the wide range of optional extras will ensure that customers can get all the functionality they need while out and about - in whatever harsh conditions they find themselves in.

Getac B300 rugged laptop
Physically imposing and well wrapped up against the element. It's impressive, but expensive.
Price:
From £1600 ($3500) RRP