Sony's PRS-505 Reader goes on sale in the UK tomorrow and will "revolutionise reading", the company ebulliently claimed today.
"What the Walkman did for music on the move, the Reader is about to do for books," the firm's spokesfolks enthused.
Maybe. Sony reckons the 260g gadget based on E Ink screen technology will prove a hit with travellers keen to avoid lugging stacks of paperbacks with them when they head off on holiday.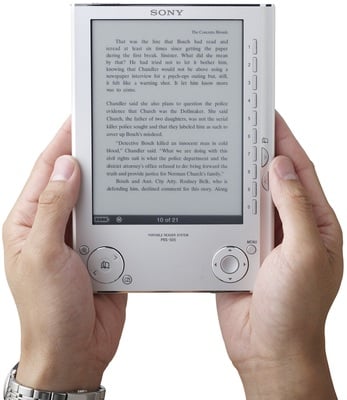 Sony's PRS-505 Reader: a boon for holidaymakers?
The unit has the capacity to hold 160 e-books, but it packs a memory card slot - 2GB SDs or 8GB Memory Stick Duos - to boost that storage space further. The screen is 6in in the diagonal and has a viewing angle of "almost 180°".
E Ink's display tech retains the on-screen image even when the power's cut, allowing Sony to claim the Reader's rechargeable battery life extends to 6800 page turns - the screen only consumes power when the picture changes.
Available from tomorrow, the Reader will cost £199. It comes bundled with a CD containing 100 "classic" - ie. out-of-copyright - titles.
Similar topics
Narrower topics