What desktop processors are AMD planning to release during the final three months of the year? A leaked roadmap slide reveals all. And its first 'Deneb' desktops will debut in January 2009.
The slide, sent to Spanish-language site ChileHardware, highlights 8 October as the next entry on AMD's calendar. On that day it'll launch the 2.5GHz, 95W Phenom X3 8850 and the 2.6GHz, 45W Athlon X2 5050e.
The following month, we'll see the arrival of the 1.6GHz Athlon 2650, a chip that consumes a mere 15W, though it's only a single core part. However, it'll be accompanied by the dual-core Athlon X2 3250e, a 1.5GHz chip that consumes up to 22W.
December will see the launch of a second, clock-unlocked version of the Phenon X3 8850.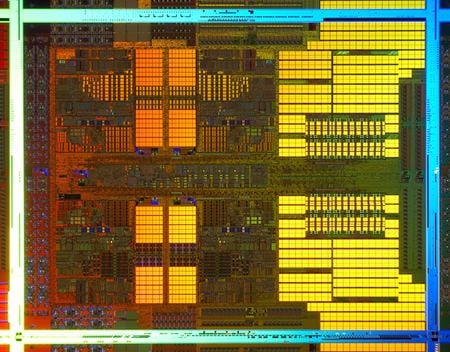 AMD's 'Deneb' core: launching in January 2009
The December section of the roadmap also lists a pair of quad-core Phenom X4s, one clocked at 3GHz, the other at 2.8GHz. Neither has a model number, but they're Deneb 45nm chips said to be "under embargo until Jan 8th".
That's the second day of next year's Consumer Electronics Show, so AMD's clearly out to make a big splash at the show with its first so-called 'Stars' desktop CPUs, both 125W beasts, despite the shift to the 45nm process.
So while Deneb will launch next January, AMD seems to be gearing up to get them out the door before the end of 2008, allowing it to rightfully claim the part shipped in H2 2008, as it promised in March this year.
The roadmap also refers to a November release for "AMD Ultra-Value Client (UVC)" processors. These are almost certainly Geode parts, suggesting AMD's preparing to tackle Intel's desktop Atom processors in the 'nettop' market.