Review The P45 Express is Intel's latest mainstream chipset for the Core 2 range of processors. In many respects, it's a refinement of the P35. However, it has developed in an interesting direction.
We generally expect that a new Intel chipset will major on CPU and memory support, but Intel has already got that side of things covered with the 3-series chipsets. P35 introduced us to DDR 3 memory - although motherboard manufacturers can use DDR 2 if they prefer - and the chipset supports all Core 2 processors, including 45nm 'Penryn' models.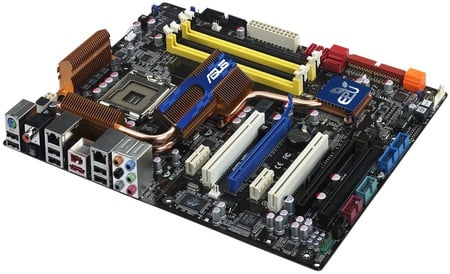 Asus' P5Q Deluxe: P45 on board
An Intel P45 motherboard such as the DP45SG supports 56 models of processor compared to 51 models for the DP35DP. The five processors that Intel officially added with the P45 chipset are Core 2 Extreme models X6800, QX9650, QX6850, QX6800 and QX6700. A quick scan of the spec of any decent Taiwanese P35 motherboard, such as the Asus P5E3 Deluxe, shows that the P35 is perfectly capable of supporting every processor that P45 can, so we're in the realms of Intel's official support rather than the capabilities of the chipsets.
MSI's P43 Neo: based on a pared-down version of the P45
P35 has a total of 20 lanes of PCI Express (PCIe) 1.1 with 16 lanes for the primary slot and four lanes for everything else. If you're using a PCIe RAID card or sound card that's fine, but if your motherboard supports CrossFire, the second graphics slot only has four PCIe lanes to work with.