Pentagon boffinry chiefs, not content with the existing panoply of wacky new whirly-copter concepts, are to fund still another radical rotary wing project - the "DiscRotor".
The idea of the DiscRotor is that of a helicopter with a large circular saucer-like hub and ordinary rotor blades extending out from it. The disco-copter takes off, lands and hovers just as an ordinary whirlybird does; but at high speed the blades retract into the central hub disc, which continues to rotate and so functions as a "rotating circular wing".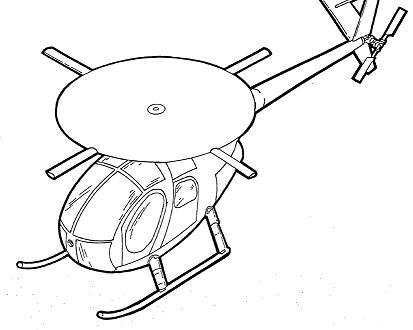 A new way of getting 'round.
The disco-rotor plan comes, as one might expect, from DARPA - the Pentagon notionry outfit which dislikes any idea raised in captivity. DARPA originally had the scheme checked out under a "phase zero" funding deal with aerospace giant Boeing and Virginia Tech, and describes the plan thus (pdf, page 56):
The Disc-Rotor Compound Helicopter program [will] develop a new type of compound helicopter capable of high-efficiency hover, high speed flight, and seamless transition between these flight states. The aircraft will be equipped with a rotating circular wing having blades that can be extended from the disc edge, enabling the aircraft to takeoff and land like a helicopter.

Transition from helicopter flight to airplane flight would be achieved by gradually retracting and stowing the blades as the circular wing assumes the task of lifting. An aircraft capable of long range high speed (300-400 kts) and VTOL/hover will provide mobility and responsiveness for troop and cargo insertion, satisfy an ongoing military interest for higher speed VTOL and hover capable vehicles, be survivable and bridge the gap in helicopter escort and insertion missions.
The agency plans to spend $3m on the DiscRotor in FY 08, and another $6m in 09. It has just put out a sole-source announcement which says that this cash will go to Boeing, who will carry out "wind tunnel testing... in order to establish critical feasibility of the DiscRotor concept... and develop options for a flying DiscRotor demonstrator".
If the saucercopter can indeed go from hover to 400 knots, it will give the various other extra-jazz whirlycraft contenders a licking they'll never forget. The tiltrotor, "Heliplane", X2 et al would all become eggbeaters with egg on their faces.
Even if it works, however, the DARPA/Boeing DiscRotor may not have a simple legal future before it. The idea appears to have at least some resemblances to the Gerbino Flight System (see pic), a ploy patented by American movie stunt pilot Al Gerbino.
Others are also pursuing the idea, which seems to have been kicking about since at least the 1960s. ®