Those old timer sign results in full
And the winners are...
It's hats off to you, our beloved readers, for your massive response to our challenge to create an "Elderly people" sign to replace the current couple of cripples hobbling down to the bingo - an image which doesn't much impress campaigning old timers organisation Age Concern.

Well, it's taken us a while to sift through your contributions, and we'd like to thank you all for your exertions. Below you'll find our pick of the crop, leading ultimately to the winners. Obviously, we couldn't run all the submissions, so don't take umbrage if yours isn't featured.
Firstly, we have a bunch of suggestions which wholeheartedly failed to embrace the concept of being a bit kinder to wrinklies. Many of you, including Captain Daft, suggested that senior citizens are in fact cantankerous warmongers behind the wheel of battery-driven chariots of death: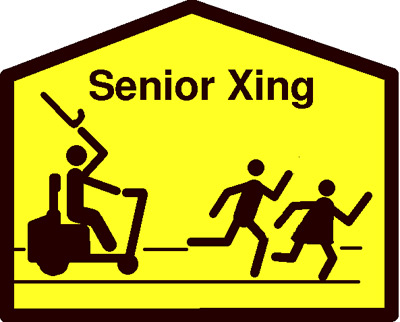 Here are some more completely unnecessary digs at old codgers, courtesy of (l-r) Kae Verens, Steve Muir, Maryn Wynn and Donald Stewart:

Yup, that last one leads us nicely on to the inevitable:

Well, Richard, Colin Barfoot, Lee Tuckwell and Peter Cranch - you just couldn't stop yourselves, could you? Mind you, neither could Jeff Davies and Niall Roche, who caught our eye with these: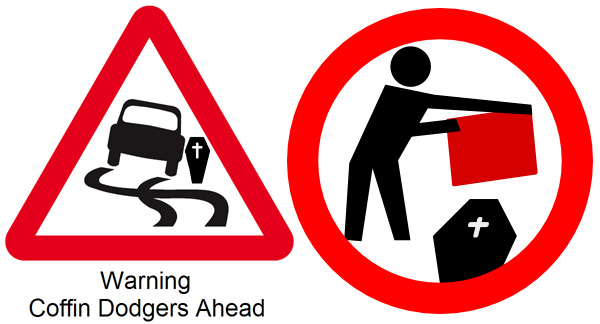 Onwards. Here are a few efforts from the "stick a picture of an old timer on a sign" line of attack:

Nice, but we can't help but feel Allan Weaver, Ants Murdoch and Richard Cain haven't fully addressed the copyright/royalties issues there. The idea of slapping an extra 20p on a gallon of petrol just to fund Sir Cliff's retirement is enough to make the average Vauxhall-Corsa-driving septuagenarian's blood boil.