Sun showed everyone a clean pair of heels as it grew its external disk storage market share faster than any other vendor in the second quarter of the year according to Gartner. IDC's quarterly disk disk market tracker also shows Sun way out in front.
The Gartner report tracks world-wide external controller-based disk storage revenues for the second calendar quarter of 2008 (Q2 cy'08). There were changes in the rankings of the top 8 vendors: EMC; IBM; HP; Dell; HDS; Sun; and FSC. But while the market grew 18.8 per cent compared to Q2 cy'07 only Sun (34.7 per cent) and NetApp (22.9 per cent) outgrew the market and gained share. The other six vendors all gave up share growing as follows:
- Dell 18.3 percent - HDS 18.1 per cent - EMC 16 per cent - IBM 14.8 per cent - HP 3.4 per cent - FSC -2.8 per cent
FSC's results were possibly related to concerns over its status, with Siemens reportedly wanting to end its support of the FSC joint venture with Fujitsu of Japan.
The collection of all other vendors grew their total revenue at 38.5 percent, more than twice the market rate. We might possibly assume from that surprisingly high growth rate that vendors such as 3Par, Compellent, Data Domain, and Pillar are making good progress at the expense of all other vendors except Sun and NetApp. Gartner identified Compellent as the fastest-growing SAN storage vendor last month.
Gartner reckon that Sun made stellar sales of its StorageTek 2000, 6000 and 9000 series products. Sun has also said that its Sun Fire x4500 'Thumper' hybrid storage/server grew billings 37 per cent year-over-year in that quarter. It retained its top ranking for Unix units shipped for the 19th successive quarter.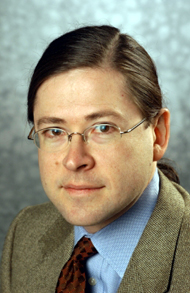 Sun CEO Jonathan Schwartz.
Geographically Japan grew most at 38.7 per cent , followed by Latin America (25.2 per cent), EMEA (22.3 per cent). Asia Pacific (16.6 per cent) and, trailing, North America at 12.7 percent.
The IDC Quarterly Disk Storage Systems Tracker for Q2CY08 looks at all disk storage system sales and shows Sun growing factory revenue at 29.2 per cent year-on-year. This is nearly three times faster than the market generally which grew 10.9 percent to $6.9 billion from Q2 cy07. The other vendors' positions and growth in the IDC tracker are unknown outside of IDC and the vendors concerned. Unsurprisingly they are not saying. You can't imagine EMC announcing it ceded market share to Sun, NetApp and assorted vendors in the other category.
There'll be a smile of Jonathan Schwartz' face and a frown on Joe Tucci's as he asks, "Why are we giving revenue away to the pony-tailed one's sales teams when we've got this great kit?" Perhaps its time to winnow out the lowest-performing 10 percent of EMC's sales reps as the company is reputed to have done in the past. Mark Hurd and Sam Palmisano could also be looking askance at the Gartner numbers too. Maybe there will be a Jonathan blog in which he explains how they should be selling disk storage.®