Poll Results In one of the tightest contests ever seen in a Reg poll, columnist and software developer Ted Dziuba has emerged as the people's choice to be Barack Obama's "Chief Technology Officer". Dziuba beat off a stiff challenge from Hans Reiser, the fallen Linux guru who was sentenced to 15 years for murder in an Oakland, Ca. court last week.
After Stanford professor and freetard pin-up Lawrence Lessig had campaigned so very publicly for the job, we felt the field of candidates should be opened up, and almost 200 votes were received.
It was clear from the outset that this would be a close contest - so we enlisted the help of former US President Jimmy Carter to oversee the process, and ensure there would be no foul play.
Dziuba raced into an early lead, but it was clear that Reiser was mounting a strong challenge. Jeff Merkey was a popular choice, but could never gather enough momentum to catch the two frontrunners.
By mid-week it looked as if we might have a sensational result on our hands, as Reiser edged into the narrowest of leads. At this point, the winner of the 2000 Nobel Prize for Peace fell asleep, a syringe of ketamine rolling suspiciously away from the recliner in which we'd placed him.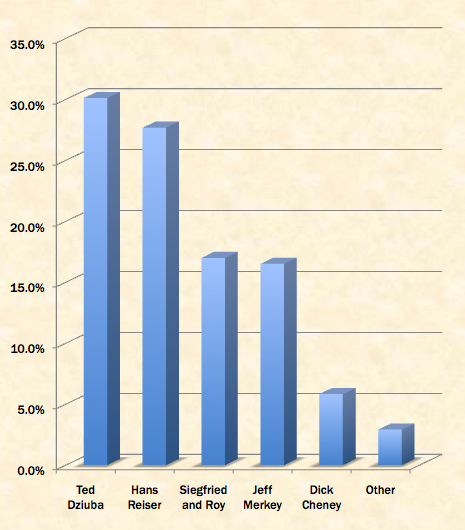 Voting was tight - but in the end, Dziuba beat off Reiser
After a flurry of counts and recounts, Dziuba emerged as the winner by just four votes.
So it's more disappointment for Reiser, but it's "FAIL" no more for the profane former Uncov blogger. Of course, for Dziuba to take up the post of America's CTO, Obama needs to be elected, and then listen to the will of the people.
Wooden spoon
There's consolation for The Professor, however. A grand total of five write-in votes were received, with former Hewlett-Packard CEO Carly Fiorina picking up two. Lessig also received two, as did another forward-thinking cult figure, amanfromMars.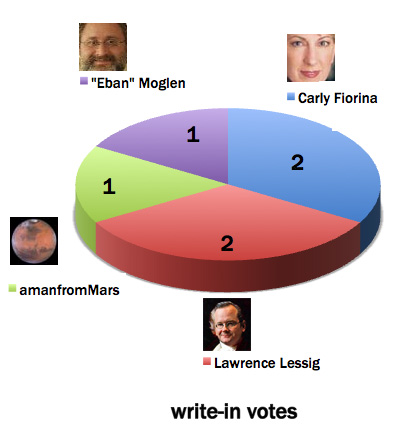 But the Professor may be dismayed to learn that 50 per cent of his votes were sarcastic. "Lets face it - he knows nothing - perfect for a Govt IT job," wrote Colin, one of the write-in Lessig supporters.
We ascribed the one vote for "Eban Moglen" to Eben Moglen, Columbia law professor and legal overlord of the GNU General Public License (GPL).
Now turn over to see why America* voted as it did...