WD VelociRaptor 300GB HDD vs SSD
Which is best for gamers?
---
It's a superb hard drive in every respect and it sets a high standard for the VelociRaptor, including value for money as the 150GB VelociRaptor costs 86p per gigabyte while the 300GB version is 60p per gigabyte. A conventional 320GB SATA drive will cost £35 or 11p per gigabyte, so the VelociRaptor is expensive from any point of view and has to deliver something special to justify the cost.
HDTach VelociRaptor Read-out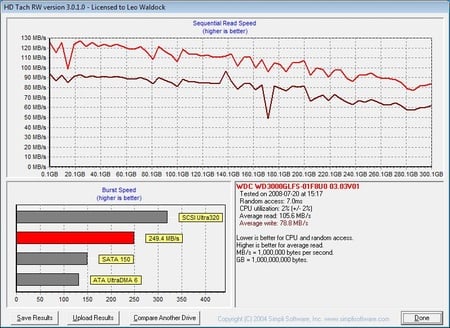 Click for full-size screen shot
The Raptor design has a spin-speed of 10,000rpm which necessitated a 3in-iameter platter to ensure reliability rather than the usual 3.5in platters that you find in most desktop drives. With the WD360, WD740 and WD1500 drives, this resulted in storage capacity that was disappointingly low by the contemporary standards of desktop drives. WD has always claimed that Raptor is aimed at the Enterprise sector, where expensive, high-performance hard drives have an established market, but many – perhaps most – Raptors ended up inside gaming PCs.
The VelociRaptor takes advantage of the latest advances in areal density by shrinking the platters even further, to 2.5in such that the new drive has the same 99 x 69 x 15mm dimensions as a notebook hard drive. There's no expectation that anyone will use VelociRaptor inside a laptop as the smaller form-factor is aimed at Enterprise customers who want to stuff their blades with storage.
HDTach SSD Read-out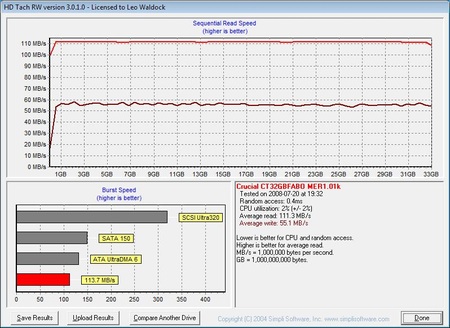 Click for full-size screen shot
They will be able to buy the VelociRaptor as a bare drive, but retail customers receive the new drive as shown in the photos, where it looks rather similar to a regular desktop drive. That's thanks to the IcePAK cooling enclosure, which is a grand name for a finned aluminium adaptor to which the drive is securely screwed. No doubt it helps to dissipate heat from the drive, but its main function is to allow you to mount the VelociRaptor in a conventional drive bay.
Similar topics
Broader topics