WD VelociRaptor 300GB HDD vs SSD
Which is best for gamers?
---
We tested the VelociRaptor on our trusty Skulltrail system with dual Intel Core 2 Extreme QX9770 processors overclocked to 4.0GHz and 4GB of Kingston FB-DIMM memory all running the 64-bit Windows Vista Ultimate Edition. We compared the VelociRaptor with a 150GB Raptor, the Hitachi 7K1000 that we've already mentioned and a 32GB Crucial solid-state drive.
We're confident that SSD technology will replace HDD in time but aren't sure how quickly it will happen. So the Crucial SSD offers an interesting comparison despite its startling price of £320.
HDTach 3.0.1.0 Results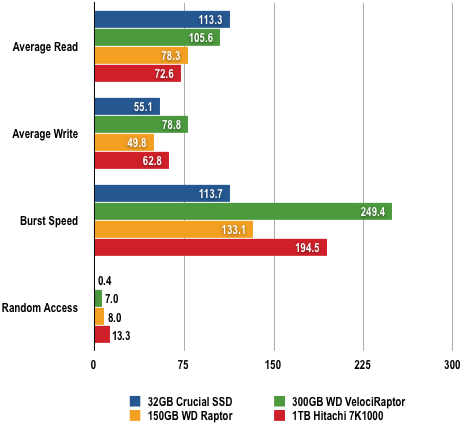 Data-transfer rates in MB/s - Longer bars are better
Random Access Times in Seconds - Shorter bars are better
HD Tach shows that the Crucial SSD has blazingly fast read speeds, iffy write speeds and poor burst speeds. The fast read speeds really stand out when the three hard drives read 2GB of files from the Crucial as the hard drive is the limiting factor compared to the SSD.
It came as no surprise that the VelociRaptor beat the Raptor with the Hitachi trailing in third place.
Windows Start-up Results

Times in Seconds
Shorter bars are better
It was a different story in a simple test to see how long it took Windows to start up. It's worth spelling out that Skulltrail takes far longer to perform its POST test than any other motherboard we've seen in a living age, so Linux and Mac fiends shouldn't scoff at the awfulness of Vista. Well, not in this case anyway.
This time the Crucial won, the Hitachi came second, with the two WDs in the rear.
Similar topics
Broader topics