WD VelociRaptor 300GB HDD vs SSD
Which is best for gamers?
---
The increased performance offered by VelociRaptor over Raptor came as a very pleasant surprise but that's only part of the story. Raptor is a fast hard drive but it's annoyingly noisy and gets rather hot. In comparison, the Hitachi drive is effectively silent, while the Crucial SSD is silent. All three drives have the same idle noise level - 29dBA - but when the drives start to work, the VelociRaptor sits between the Raptor and Hitachi drives in terms of noise. It's relatively quiet and won't cause you much in the way of annoyance.
2GB Data Transfer Results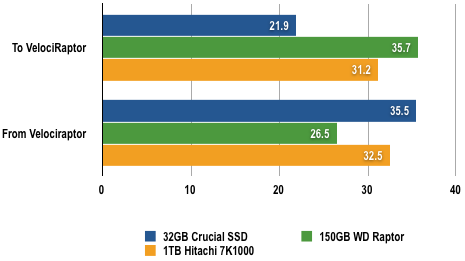 Times in Seconds
Shorter bars are better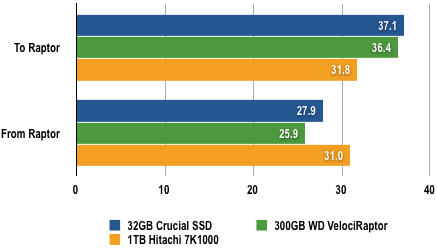 Times in Seconds
Shorter bars are better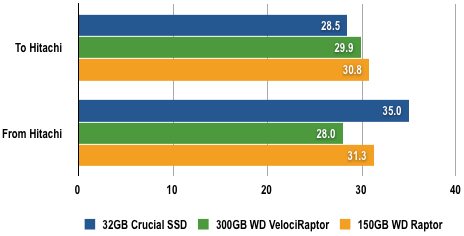 Times in Seconds
Shorter bars are better
The big news is the tiny power draw of VelociRaptor, which is only 4.5W at idle and 6.1W when the drive is working. That's half the power draw of the Raptor and the Hitachi and the result is that the VelociRaptor is impressively cool to the touch even when it's working hard.
The Crucial SSD is another story. This new technology costs a fortune and the capacity of the earliest models makes it relatively useless. You could use a 32GB SSD to store your OS and applications and the result would be a quiet PC that starts impressively quickly. Back in the real world, you'd likely need a regular hard drive to store your data files as the slow write speed of the SSD would hamper performance.
Thankfully, there are new models of SSD from the likes of OCZ coming to market that offer higher capacity, lower prices and will offer a direct replacement for the hard drive. We'll be looking at these in due course.
Verdict
VelociRaptor is staggeringly fast yet also very quiet. And with 300GB of capacity it's a must-have for anyone building a Media Centre PC or a new gaming rig. Provided, of course, you can afford the steep asking price.

WD VelociRaptor 300GB HDD vs SSD
The new VelociRaptor is expensive but it's impressively fast and quiet.
Similar topics
Broader topics