This article is more than 1 year old
Taiwanese firm to sue over armed raid at IFA
Barks back at Philips, patent police
A Taiwanese firm is taking legal action over damage to its reputation after an Italian patent troll representing Philips prompted the raid of a Berlin consumer electronics show last month.
Teco was among 69 companies targeted by some 200 armed German custom officers during the IFA trade fair in Berlin. The raid was done at the request of Sisvel, which administers MP3 and DVD technology patents on behalf of Philips. Sisvel had complained that exhibitors at IFA may be infringing on patents owned by its client.
The agents confiscated a number of products from the show floor to check for evidence of patent breaches. The loot hauled away included some 170 flatscreen TVs, 140 MP3 players, 57 DVD recorders and 22 notebook computers.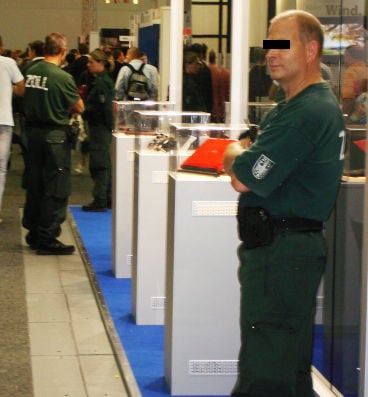 Customs officials raid IFA
Teco said in a statement that 13 LCD TVs were seized from its IFA booth over alleged infringements of Philips' DVD player patents. Teco claims custom agents ignored their explanations that the sets didn't even have DVD functions before hauling the gear away.
"It's simply unbelievable that they seized our products in such a savage manner — without any proof of patent violations on our part," said a Teco spokeswoman to AsianPulse.
The company claims the seizure caused damage to its reputation and ruined potential business opportunities at IFA.
Teco is presently seeking indemnification from Sisvel and Philips for the damage caused by the accusations. It's also seeking for a technical examination to show that Teco products don't violate any patent holdings.
This year's IFA certainly wasn't the first police and customs raid prompted by Sisvel. In March, over fifty stands at CeBit were raided because of suspicions from Sisvel of MP3 patent violations.
SanDisk also had its booth raided at IFA last year by the accusations of Sisvel. Although the seizure of SanDisk's products at the trade show was first ruled to have been disproportionate to the powers proved by the warrant issued by the Berlin Amtsgericht Tiergarten court, it was later overruled and determined lawful by a higher court decision. ®