When an army of angry American watchdogs barked for a one-word privacy link on the Google home page, the search giant refused. At least initially. And when it finally acquiesced a month later, it did so only after carefully removing another word from the page. The way head Googirl Marissa Mayer tells it, the Google home page mustn't contain any more than 28 words. Yes, 28.
But it seems the 28-word limit doesn't apply when Google is pushing its very own web browser: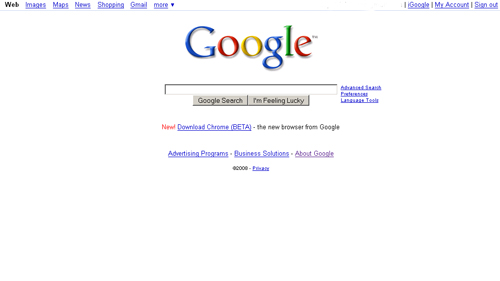 Google adds nine words to home page
Since Chrome launched early last week, a download link has appeared at least twice on Google's supposedly sacred home page - and then disappeared. We can only assume that the company is engaged in some sort of schizophrenic self conflict, battling to reconcile its pathological desire for world domination with its Rainman-like obsession over word counts. ®
Bootnote
Judging from changelogs on its open-source Chromium project, Google is already working on a Chrome Linux port.