Those who use Apple's iTunes or QuickTime on either a Mac or Windows machine, or who own an iPod touch, will want to install newly released updates that fix a raft of serious security bugs. Not that Apple is going out of its way to warn of the risks, mind you.
The most serious of the batch seem to be updates for QuickTime, which plug holes that could allow attackers to hijack a Mac or PC simply by tricking a user into viewing a maliciously crafted video or picture. (And given the presence of millions of recently compromised websites, how hard can that be?)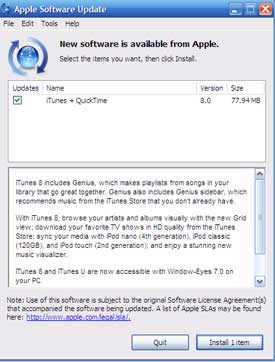 Other flaws reside in iTunes that lead to misleading firewall dialog messages and, on Windows machines, the ability to escalate system privileges. Apple also exorcised several Windows-specific demons from Bonjour, an iTunes component that allows computers to locate and connect to other devices on a local network. Those bugs make it possible for remote miscreants to spoof DNS responses, among other things.
Apple also updated software for the iPod touch. Among the security bugs that were squashed was a flaw that allowed one application to read the files used by a separate application. Other vulnerabilities reside in an application known as FreeType that could allow the execution of arbitrary code when accessing maliciously crafted font data.
Sadly, when we fired up iTunes, QuickTime and the Apple Software Update applications on our Windows XP machine, we were hard pressed to find any mention of a security bug. Instead (as the screenshot to the right illustrates), what we got was a lot of fluff about Genius and other new bells and whistles added to iTunes. That may be of little consequence to hard-core techies who read El Reg, but for Aunt Mildrid using her brand-new MacBook Pro, that lack of a clear warning is dangerous.
Apple's diligence in stamping out bugs is commendable. But its Howard Hughesian obsession with secrecy and marketing imperils their considerable number of users, and that's a pity. ®