A European Space Agency experiment shows that tiny eight-legged invertebrates known as "water bears" are the first known animal to survive the vacuum and radiation of space.
The hardy critters, also called tardigrades, are between 0.1 to 1.5 millimeters long and thrive in moist conditions. They can commonly be found munching on wet lichens and moss, but are quite capable of living in harsher conditions such as dunes, mountaintops and ocean depths. Should their environment become too dry, water bears can stop metabolic function to enter a state of cryptobiosis until conditions return to being more hospitable.
According to a report in New Scientist, a study lead by Ingemar Joensson of Sweden exposed some 3,000 water bears to 10 days of open space while aboard a ESA spacecraft in low orbit.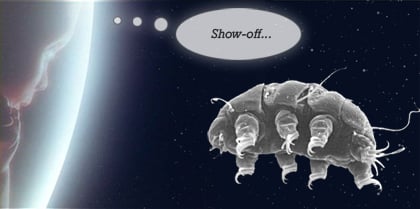 "Our principal finding is that the space vacuum, which entails extreme dehydration, and cosmic radiation were not a problem for water bears. On the other hand, the ultraviolet radiation in space is harmful to water bears, although a few individuals can even survive that," said Joensson.
In one of the two species tested, 68 per cent of the specimens shielded from UV radiation were able to be revived within 30 minutes of being rehydrated. Many even went on to lay eggs that hatched successfully.
Only a handful were able to survive full exposure to the Sun's UV light, which is 1,000 times higher than on the surface of the Earth. Joensson suspects even the survivors suffered DNA damage from radiation, but were able to repair their genetic material.
How that was accomplished "remains a mystery," the researchers write. Figuring out how it's done may benefit medical science.
"One problem with radiation therapy in treating cancer today is that healthy cells are also harmed," Joensson said. "If we can document and show that there are special molecules involved in DNA repair in multicellular animals like tardigrades, we might be able to further the development of radiation therapy." ®
Similar topics