Pictures BT's Mayfair exchange was burgled last night, leaving thousands of homes and businesses in central London without internet access this morning.
The raid cleaned out routers, networking cards and fibre at about 9pm on Wednesday, Reg sources said. According to data at Samknows, the exchange serves about 3,000 residential premises and 4,200 non-residential premises.
A BT spokesman confirmed police are investigating "an incident" at its Mayfair site, which is in Farm Street, near Park Lane. He said BT was unable to estimate yet when customers will see service restored but that more information would be released later today.
Customers including ISPs who resell BT Wholesale broadband lines have been told that new hardware is being sourced by engineers.
A spokesman for the Metropolitan police said a public statement is being prepared. We'll update this story as soon as we have it. ®
Update 11.34am
BT sent this statement:
We can confirm there was a break-in at our Mayfair Telephone Exchange last night (Wednesday), this is a now an ongoing police investigation and therefore we are unable to comment further.

BT apologises for any disruption caused to our customers. Our engineers are working around the clock to ensure that full service is up and running as soon as possible.
The Met is still working on its line.
Update 1.50pm
Police told El Reg they were called to the Farm Street exchange at about 1am this morning. Investigators from Central Westminster CID are working with BT to establish what was taken. No arrests have been made and police are not prepared to discuss the value of what was taken.
The Daily Mail offers the theory that the raiders used the scrum caused by a party thrown by Guy Ritchie and Madonna at the pub next door to the exchange as cover.
Pictures
Farm Street is a short walk from Vulture Central, so we went over with a camera. There was no obvious uniformed police presence, but the small parking space behind the exchange's large metal gates was packed with BT vans and some unmarked vehicles. The exchange is located in a dark mews off Farm Street, which itself is a very quiet residential street with negligible passing foot or vehicle traffic.
While we were there more engineers arrived. They said they were unable to discuss the thefts, but said they believed the exchange is not usually manned at night. The high barbed gates would normally be locked however, they said.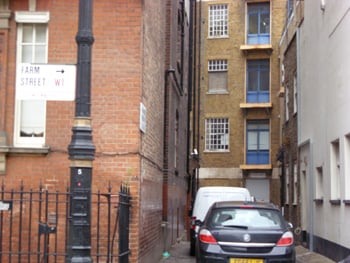 Welcome to BT Farm Street, come on in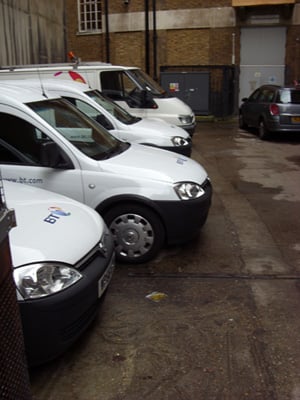 The cavalry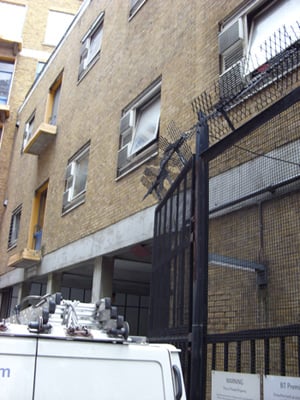 The exchange building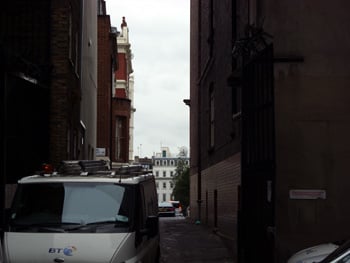 A lookout's view of Farm Street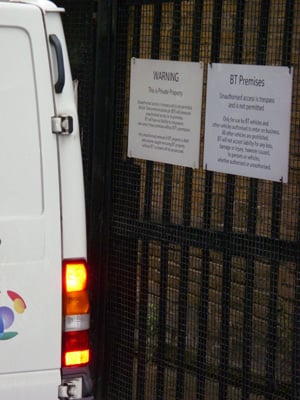 You tell em, BT
Similar topics