Maritz apologises to VMware customers again
Sorry isn't always the hardest word
---
Days before VMware's virtualization-fest at the virtual Venice of Las Vegas' Venetian Hotel, CEO has issued a second letter of apology to customers affected by the ESX update last month that crashed their virtual servers.
VMware has found that this foot-shooting episode's effects have been exacerbated by Microsoft's price-cutting of Hyper-V and whispers that VMware isn't really suitable to be mission-critical software if simple updates crash the hypervisor. Sun has also announced its xVM virtualization products and Red Hat is busy crowing about its Qumranet acquisition's KVM hypervisor which, it claims, can host many more virtual machines (VMs) than ESX.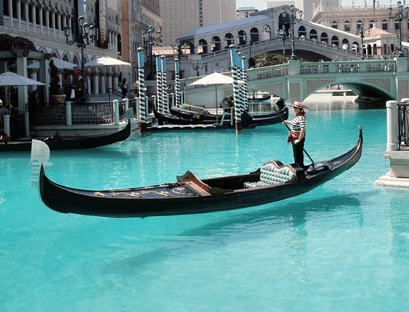 Venetian Hotel's lagoon and gondola.
VMware recently lost its R&D director, Richard Sarwal, who had been recruited when founder Diane Greene ran VMware inside the Joe Tucci-controlled EMC big tent. Greene was fired in July and ex-Microsoft executive Paul Maritz, recently recruited by EMC to run its cloud computing initiatives, was given VMware to run. His update engineers screwed up big time by issuing an ESX update in August that contained destructive time out code. This caused many VMware users' licenses to abruptly expire and their virtualized server worlds came crashing down to Earth.
VMware quickly developed workarounds and fixes and Maritz issued a mea culpa letter. But then Sarwal went nine months after joining VMware, to be quickly followed by Greene's husband and co-founder, Mendel Rosenblum, VMware's chief scientist. This was an expected departure but the timing is not good and sours things for Maritz.
He's decided it's necessary to issue a second apology to customers and to emphasise VMware's credentials as a mission-critical software supplier. The letter states: "we have initiated a major examination and evaluation of our product release and quality assurance processes. This effort has yielded a number of areas for improvement, and we have already begun making needed changes. "
"We have removed any instances of the type of "time-out" code from all major, minor and maintenance code releases for VMware enterprise products and will not incorporate this type of code in our licensed products going forward."
He's not explicitly blaming the previous administration but there's a hint there of sloppy update practices having to be fixed. Maritz also says: "we will improve and better align our efforts around supporting and communicating to customers in response to product issues."
Hopefully VMware existing and potential customers will be reassured by this and not feel tempted to take a gondolier across the Venetian's lagoon to the alternate virtual worlds offered by Citrix, Microsoft, Red Hat, Sun and virtual Iron. ®