This article is more than 1 year old
NASA preps Atlantis for Hubble mission
Endeavour also readied for possible rescue dash
Space shuttle Endeavour was yesterday rolled into the Kennedy Space Center's giant Vehicle Assembly Building, where technicians will clamp on its external tank and twin solid rocket boosters pending transfer to launch pad 39B some time next week.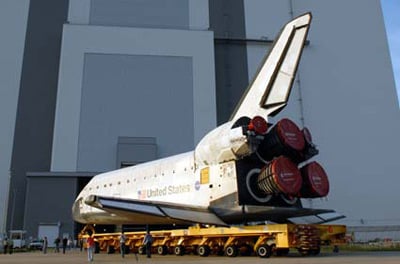 Endeavour (see pic) is slated to carry the Multi-Purpose Logistics Module to the International Space Station on 12 November during mission STS-126, but will be readied for a possible rescue operation for Atlantis's STS-125 jaunt to the Hubble space telescope, due to depart on 10 October* from launch pad 39A where operatives are now preparing it for lift-off.
Over 11 days, the Atlantis crew (Commander Scott Altman, Pilot Gregory C. Johnson and Mission Specialists Andrew Feustel, Michael Good, John Grunsfeld, Mike Massimino and Megan McArthur) will carry out five spacewalks during this fifth and final shuttle trip to Hubble.
Their roster of tasks includes maintenance on the Advanced Camera for Surveys and the Space Telescope Imaging Spectrograph, as well as equipping Hubble with the Cosmic Origins Spectrograph - designed to "observe the light put out by extremely faint, far-away quasars and see how that light changes as it passes through the intervening gas between distant galaxies" - plus the new Wide Field Camera 3, which at ultraviolet and infrared wavelengths "represents a dramatic improvement in capability over all previous Hubble cameras".
Of the challenge ahead, Lead Flight Director Tony Ceccacci said: "It's more like brain surgery than construction. On station spacewalks, you're installing large pieces of equipment – trusses, modules, etc – and putting it together like an erector set. You can't do that with Hubble. Hubble spacewalks are comparable to standing at an operating table, doing very dexterous work."
Before Atlantis's crew gets to grips with Hubble, though, it'll do the now customary close examination of the shuttle's heat shield the day after launch. In this case, and without the ISS crew to "give the shuttle a once over and photograph its heat shield", the inspection via the shuttle robotic arm will be "much more intensive".
In the event that "irreparable damage" is found, and since Atlantis can't reach the ISS from Hubble's orbit, Endeavour can be made ready to rescue the stranded astronauts "within days".
All being well, the mission (summary here (pdf)) will run on rails and give Hubble at least another five years of working life. ®
Bootnote
*STS-125's scheduled launch date is, of course, weather dependent. NASA noted yesterday: "Due to the threat of severe weather posed by Hurricane Ike, NASA's Johnson Space Center in Houston closed at 1 p.m. EDT Thursday, suspending all training preparations for mission STS-125. The closing prompted Space Shuttle Program Manager John Shannon to postpone until sometime next week the STS-125 program-level Flight Readiness Review that had been scheduled for Thursday and Friday."