Review Since words written on paper have kept civilised humans amused and off the streets for the best part of five-and-a-half thousand years, anything that hopes to replace it had better be good.
With this is mind, and in an effort to make the printing press obsolete, Sony has released the PRS-505 Reader - a book, Jim, but not as we know it.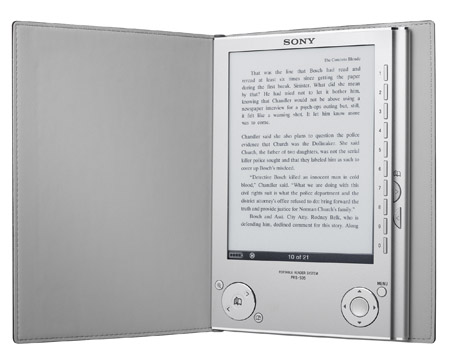 Sony's PRS-505 Reader: stylish
To date, media reception of the Reader has been little less than hagiographic, though to be fair it is a little difficult not to gush when you get your paws on something that looks this, well, cool.
In essence, it's an aluminium slab weighing 260g and measuring 122 x 175 x 7.6mm, and fixed into a very nice tan mock-leather "book cover", Sony has obviously spent a lot of time and effort making sure that 'book lovers' will be impressed by the Reader from the beginning.
While the front of the Reader is dominated by the screen and navigation controls, Sony has managed to cram a fair amount into its sub-8mm upper and lower surfaces: two memory expansion slots and the power on/off control up top, and a mini-USB port, 3.5mm headphones jack, 5.2V DC in jack and volume control down below.
The mains power supply is an optional extra, so out of the box you can only charge the Reader through the USB cable. The battery takes around two hours to go from flat to fully charged.
One thing the Reader has coming out of its ears is controls. It has more of them than you can, well, throw a book at, with many of them doubling up on each other.