Closely-related domains
Many of the domain names returned by Baidu MP3 Search lead to a single IP address. The series of domain names were formed by one letter + one numeral + 2 letters.
A typical example is the **yy.cn series of domain names which during the monitoring phase all pointed to the same IP address 219.153.42.69 — which was then later changed to the IP address 61.188.38.84.
The following are examples of this **yy.cn series
b8yy.cn c8yy.cn e8yy.cn f8yy.cn H8yy.cn i8yy.cn m1yy.cn m3yy.cn m5yy.cn M6yy.cn a8yy.cn k8yy.cn l8yy.cn n8yy.cn O8yy.cn p8yy.cn q8yy.cn r8yy.cn s8yy.cn U8yy.cn
The common feature of these domain names is that the homepage contains no information. The only access to music files is via a search engine.
For example, on one day late last year, two domain names hosting unlicensed MP3s, b8yy.cn and m1yy.cn, were leading to a single IP address.
Six weeks later, these had been joined by five more similar domains — h8yy.cn, m1yy.cn, m5yy. cn, m6yy.cn, b8yy.cn, c8yy.cn, f8yy.cn and iy8yy.cn. There were similar series of domains beyond just the **yy series.
| Song | Artist | URL | IP Address |
| --- | --- | --- | --- |
| Pretty Boy | M2M | http://www.h8yy.cn/mv/010020021/0000/M2M-prettyBoy.654.wma | 61.188.38.80 |
| Pretty Boy | M2M | http://ting.b8yy.cn/wma/010020021/0000/M2M-prettyBoy.654.wma | 61.188.38.80 |
| Pretty Boy | M2M | http://mv.f8yy.cn/wma/010020021/0000/M2M-prettyBoy.654.wma | 61.188.38.80 |
| Pretty Boy | M2M | http://mv.h8yy.cn/532/010020021/0000/M2M-prettyBoy.654.wma | 61.188.38.80 |
For these **yy series domain names, it is quite obvious that there are signs of human intervention in the way that the music files are moved around. As of now, the music has migrated away from the yy series and moved on to a new series, m*mus.cn.
But Baidu also affects the choices available to Chinese web surfers by choosing what they see.
Putting Baidu to the test
A search engine reflects the values and priorities of the engineers who design the algorithms. But not all search engine results pages (SERPS) are equal, as this example vividly demonstrates.
This picture shows the results returned for searching for Jay Chou's song Blue and White Porcelain on Google China, with the key words of "Blue and White Porcelain 9Sky", in Chinese. 9Sky is the name of the legal music store.
The following picture shows a result of a Google China search for the phrase "Blue and White Porcelain 9Sky"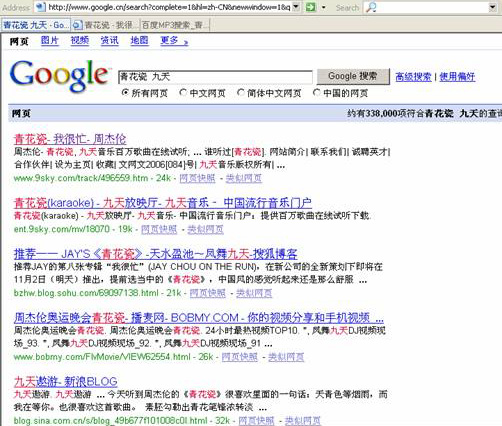 Google China: legitimate sites and blogs rank highly
Google's Search result for "Blue and White Porcelain 9Sky" (in Chinese) shows 9Sky as the first result.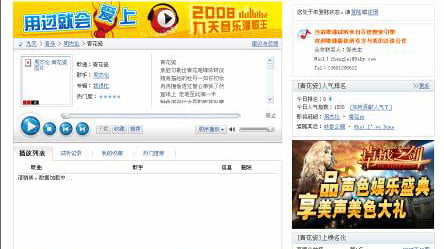 Google directs users to the legitimate store, 9Sky
The same search phrase on Baidu's MP3 Search draws a blank: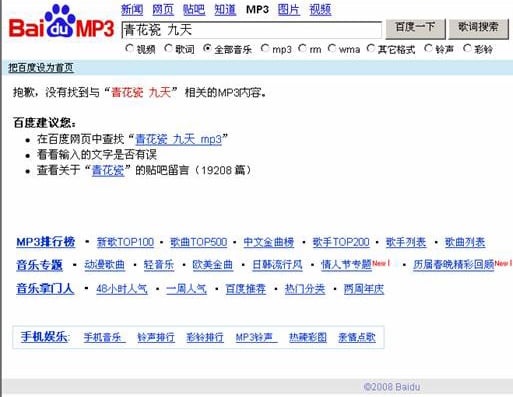 Baidu shuns legal music
Moving target
It's a cat and mouse game fraught with difficulty for investigators. The Hebei Copyright Administration and legal authorities finally managed to pin down full liability on music search engine Zhongsou for hosting illegal music files on its servers. Zhongsou was offering a similar service to Baidu. Zhongsou's network of domains was registered under false names of individuals, and it required laborious investigation to track down the servers. The Copyright Authorities and legal investigators then had to furnish the ISP with notarized proof of offence, before the server ownership details were revealed. And in the Zhongsou case, it required haste and secrecy to convince the ISP to not only to grant them access, but also the authority to seal the servers to prevent tampering or removal of evidence.
Because a Baidu MP3 search for a single song can show hundreds of URLs, monitoring is particularly difficult. Since songs hosted on the **yy.cn domains are regularly rotated, the infringing song will inevitably re-appear under another ****yy.cn** domain name and URL, and Baidu can claim that it has complied with the take-down notice without removing the offending sites from its search index.
Whoever the manipulator of these domain names turns out to be, the contents infringes PRC Copyright Law Article 47(1), and the hoster therefore bears direct and primary liability. Baidu's decision not to index many songs on third party music blogs has a fortunate economic benefit for the company: it reduces Baidu's administrative cost of policing infringement.
The net effect is that the MP3 song file in question is always available on Baidu's MP3 search engine, despite any number of take-down notices by content owners, and Baidu's MP3 search users are always gratified — keeping Baidu's traffic flowing.
Baidu's categorization of music links into genre categories and charts also takes it further away from the notion of a "neutral" search engine. In addition to MP3 Search, Baidu also provides the full infrastructure for users to organize music download links into new personalized albums which they can then share with other users via Zhang Men Ren, and music box personalized playlist services.