This article is more than 1 year old
Apple 4G iPod Nano
Getting it right on the fourth attempt?
Review If it ain't broke, don't fix it. That's why most of the iPod range has received only relatively minor changes in the run-up to this year's Christmas spending spree.
Apple has almost 75 per cent of the market for portable music players, so minor tweaks to the iPod Classic and Shuffle were all that were needed to update those models.
The iPod Nano, however, was clearly a problem. In fact, it's been a problem ever since it was introduced three years ago as the replacement for the iPod Mini, which was one of the best-selling iPods ever. This is the fourth Nano design that Apple has come up with in just three years – but this time it does look as though it's got the player right.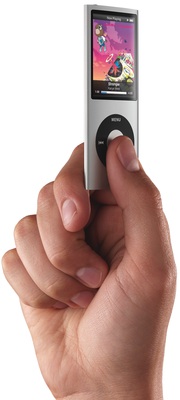 Apple's 4G iPod Nano: eminently touchable
It may not have been 'broke', but by Apple's own admission the last version of the Nano – the third-gen model 'fat' model - wasn't as successful as its predecessors. We're rather fond of the squat little Nano, but you can't argue with the sales figures, so this new 4G model is a return to the stick-like design of previous models.
The design is sleekly impressive. Looked at from above, the iPod nano is an extremely thin oval, measuring just 6.2mm at the thickest point. It weighs a mere 36.8g - that's less than a tenth of a tin of beans - so it's certainly easy to hold in the palm of your hand or to carry around in your pocket. The look of the unit is further enhanced by the shiny aluminium casing and the eye-catching colours that Apple is offering for this model, which range from a relatively restrained silver or dark grey to quite lurid shades of orange, red, pink and purple.
There's a total of nine colours to choose from, and each colour is available in two sizes: 8GB for £109 (£13.63 per Gigabyte) and 16GB for £149 (£9.31 per Gigabyte), doubling the capacity of the 3G models. Battery life is about 24 hours when playing music and four hours for video, Apple claims.