Apple 4G iPod Nano
Getting it right on the fourth attempt?
We do have a couple of minor complaints about the design, though. The front and back panels are smoothly curved, but the corners of the case are actually quite sharp. They're not going to draw blood, but they might snag on your clothing, especially if the Nano is crammed into the pocket of a skin-tight pair of jeans of the kind we understand some young people are given to wearing these days.
We're also not wild about having the headphone connector on the bottom of the unit, right next to the dock connector. Apple apparently does this with the diminutive Nano because some people dangle it upside down around their necks with a lanyard, so that the bottom of the nano actually points upwards. In our experience, though, most people just stick it in their pocket, in which case having the headphone cable coming out of the bottom of the unit just seems awkward. The larger iPod Classic, in contrast, has the headphone connector on the top of the unit, which seems less clumsy to us.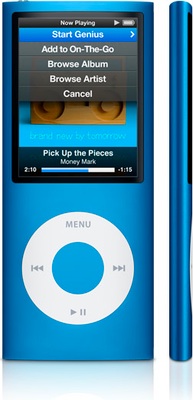 Skinnier now, but with more legible menus
Speaking of headphones, the Nano is, of course, supplied with Apple's cheap and cheerful little white earbuds. As always, the audio quality from these is acceptable for the casual listener, although their rather thin sound leaves plenty of room for improvement - hence the thriving market in 'upgrade' earphones.
These are relatively minor details, though, and a far more important change is the new screen. The 320 x 240 resolution is unchanged from the previous model, but Apple's taken the wide screen of the 3G model and turned it on its side. It's also fractionally bigger: 43.8mm x 32.5mm to 43.8mm x 31.3mm, to compare like-for-like dimensions.
The first thing we noticed about the new screen is that it improves the legibility of text when you're scrolling through the music menus. The extra height allows the Nano to display information in a larger typeface and yet still list more song titles on the screen than was the case with the previous model. On the other hand, the narrowness of the screen means that photos and video clips will appear squashed – that's why the 3G model opted for a wider screen that could display photos and videos more effectively.