Apple 4G iPod Nano
Getting it right on the fourth attempt?
However, Apple has successfully incorporated new technologies into its product range, such as the 'accelerometer' sensor used in the iPhone and iPod Touch. This technology has now filtered down to the less expensive Nano, giving Apple the ideal solution to the problem of using such a narrow screen: just turn the Nano on its side, so that the screen now appears wide rather than tall. The accelerometer will detect the movement and automatically rotate pictures and video clips so that they're properly displayed in the new 'widescreen' mode. The screen is still pretty small, of course, but the image is very clear and sharp so watching photos and videos doesn't put too much strain on your eyes.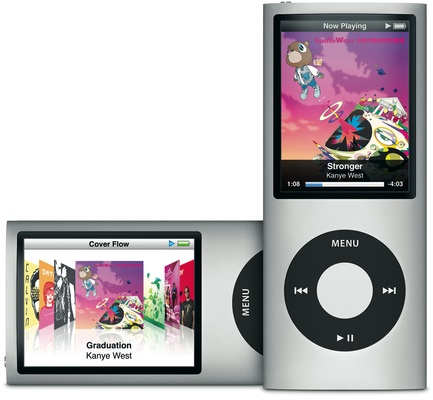 iPod Touch-style screen auto-rotation
We also noticed that turning the Nano onto its side while listening to music made it automatically switch to the Coverflow mode that allows you to quickly flick album artwork across the screen. Coverflow definitely works better with the widescreen orientation, showing you dozens of album covers that quickly ripple across the screen. We also suspect that Apple may have used a more powerful processor to control the new Nano, as the album artwork flicks across the screen much more quickly on this new model than it does on our 3G. And while the larger iPod Touch and iPhone need to be held in both hands when turned on their side like this, the Nnano is so light that you can still hold it in one hand and control it by lightly flicking your thumb over the scrollwheel.
It's an elegant solution, and one that gives the Nano the best of both worlds: the slim, upright design that you'll use most of the time for listening to music, and the widescreen option for when you need to look at photos or videos.
Apple hasn't stopped there, either. It has also taken advantage of the accelerometer to throw in a new feature called 'shake to shuffle'. When you're listening to music you can quickly shake the Nano from side to side a couple of times and it will automatically start to pick songs at random.