This article is more than 1 year old
RIM Blackberry Bold 9000
Smart looks and a feature-full package
Review Research in Motion's BlackBerry series has been trying to edge its way into the pockets of consumers for some time, and despite its hefty price tag, the new Bold could be its best attempt yet.
It's certainly a stylish looker: all black and chrome with splashes of red for the keyboard numbers. Its appearance is smooth enough so you don't look like a sad office drone the moment you unleash it from the bundled leather pouch.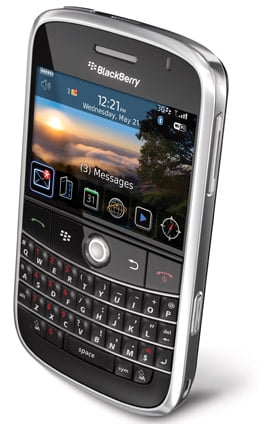 RIM's BlackBerry Bold: consumer friendly
It's not the most petite Blackberry - that honour would go to the Pearl series, which makes more of an effort to look like a standard mobile phone. But though it makes no secret of its business cred, the Bold offers the best combination of practicality and desirability we've yet seen from RIM.
On the front, the Bold has a full Qwerty keyboard, which necessarily bulks it out at the sides. At 66mm it's not huge, but still makes for a broad pocketful. Fortunately, those portly dimensions aren't echoed with its thickness, and at a mere 15mm it feels surprisingly svelte in the hand.
The back has a nice leather effect which grips tabletops nicely, and on the sides there are a volume rocker, camera shutter button, USB port, Micro SD slot - though you'll need to supply your own memory card - 3.5mm headphone socket and a dedicated voice notes button.