Canon devlop anti-reflective coating
Ghosting-B-Gone
---
Lens boffins at Canon have developed a lens coating that it's claimed minimises ghosting and flare caused by reflected light.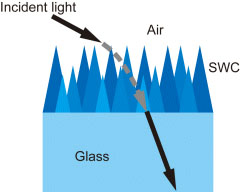 Canon's Subwavelength Structure Coating reduces reflections
Called Subwavelength Structure Coating (SSC), the anti-reflection technology minimizes reflections by aligning wedge shaped structures – each smaller than the wavelength of visible light - on the surface of a camera lens.
Reflections are caused by large changes in light's refractive index at the glass/air boundary on the surface of a camera lens.
But Canon stated that an SSC applied to the glass/air boundary continuously changes the refractive index, to the extent that the boundary where the index undergoes large changes is eliminated.
This, it's claimed, means the amount of reflection is reduced – although Canon hasn't said by what percentage.
The camera firm plans to use the coating on large curvature lens elements, such as those found in wide angle lenses. But it hasn't announced which specific lenses that will feature the coating.