Exclusive Apple has confirmed the existence of a 4GB fourth-generation iPod Nano, following the appearance of mysterious pictures online.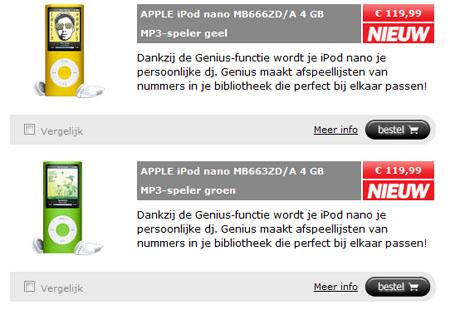 Apple's confirmed that a 4GB 4G Nano exists
Initially a set of unofficial pictures clearly showed a 4GB logo on the back of the red oval-shaped iPod Nano player. The images then set the web alight with rumours because Apple has, in the UK at least, only released the player in 8GB and 16GB capacities.
However, an Apple spokeswoman has confirmed to Register Hardware that it did make a "limited number of 4GB iPod Nanos for some international markets".
The spokeswoman couldn't confirm which countries the 4GB model was shipped out to or how much it cost, but the device is said to have been spotted for sale by a Dutch retailer.
Apple's 4GB 4G Nano has since been spotted for sale on a European version of retailer Dixons website, priced at €120 (£95/$170).
Apple added that the 4GB model isn't one of its "main configurations," which suggests that the lower capacity player is designed to appeal to those on a lower income or someone without a vast music library.
Of course, Apple wouldn't confirm if the 4GB fourth-generation iPod Nano will be launched in the UK.
Reviewed: Apple 4G iPod Nano