Sometimes the simplest ideas are the best ones, and TrekStor's USB Flash drive with integrated bottle opener is sure to win acclaim from storage geeks and boozers alike.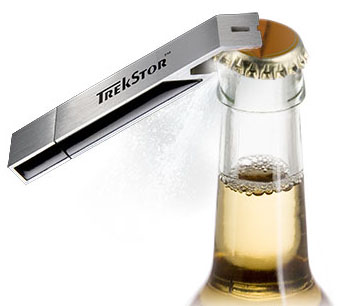 TrekStor's USB Stick CO: stores data and opens bottles
The USB Stick CO will not only quench your storage thirst with its 25MB/s read speed and 12 MB/s write speed, but is also sure to have you sipping suds at your desk thanks to the bottle opener that's built into the device's brushed aluminium housing.
A USB 2.0 connector port features at the sober end of the device and drinkers storage fans can pick the unit up in 1, 2, 4, 8 and 16 bottle packs GB capacities.
The USB Stick CO stick is available online, with prices ranging between €7 (£5/$9) and €50 (£40/$70).