'Leccy Tech Chrysler look set to follow General Motors and put its own electric car into production in 2010 based on the four-door ecoVoyager concept it showed off earlier this year.
At the time, Chrysler claimed the entirely electric ecoVoyager will have a range of 300 miles. Put that in your Volt and smoke it, GM.
To be fair to GM, its Chevy Volt, which can travel 40 miles on a battery charge, was this week being touted as a model that's ready for production, whereas Chrysler has simply talking concepts so far.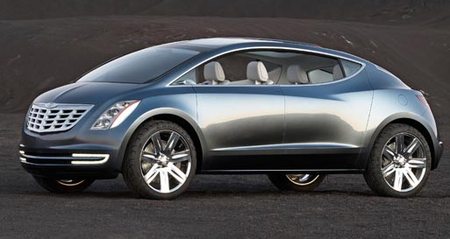 Chrysler's ecoVoyager: production design imminent?
It's thinking is expressed in the four-seater ecoVoyager, which, like the Volt, has an entirely electric powertrain. The battery will be a lithium-ion job, but Chrysler also has the notion it'll fit a hydrogen fuel cell too, to pick up the work when the battery's flat, and it's that that allows it to claim a 300 mile range.
This model, along with two others, will be hawked around US dealers over the next month or so, AutoExpress magazine claims. They get to chose which model will be put into production in the 2010-2012 timeframe.
One of the models, the paper says, drops the ecoVoyager's fuel cell in favour of a petrol-powered generator that kicks in to feed the electric engine with volts when the battery drops below a certain point. This is the same approach taken by the Volt.
Chrysler ecoVoyager Photo Gallery