An Israeli city hopes to use DNA analysis in the fight against dog poop littering its footpaths.
With a six-month trial program, the city of Petah Tikva, a suburb of Tel Aviv, intends to build a DNA database of local dogs in order to match improperly disposed droppings with owners. Residents are being asked to usher their pooch to a municipal veterinarian where a DNA sample can be collected.
Those who scoop their dog's doo and place it in specially marked bins will be eligible for rewards such as dog toys and pet food coupons. Those that leave Rover's cargo on the street may face a fine, according to a Reuters report.
The program is currently voluntary – which certainly makes you wonder whether a pet owner who can't be bothered to pick up their dog's droppings would be warm to the idea of taking their mutt in for genetic analysis. Especially if they know this might result in a municipal fine. But city officials said they will consider making DNA sample visits mandatory.
(We'd also like to know who gets the job of sorting through all that dog shit in a bin).
Petah Tikva's chief veterinarian said the database could also be used for researching genetic diseases in dogs, identifying stray animals, and other bits of canine science.
"The sky is the limit on how far we can take this," she is actually quoted saying about the city dog poop collection plan. Shine on you crazy diamond. ®
Bootnote
We'd like to thank the folks at the BBC for coming up with what is possibly the least appealing video preview frame ever for the story: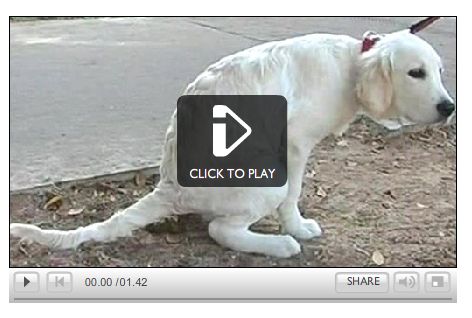 This is how you sell a piece.