A US Illuminati black op to seek, locate and disarm a Soviet nuke disguised as a blue plastic cow sculpture ended in failure when the special agent charged with the task got stuck in an air duct in Knoxville Museum of Art, and was obliged to call for traditional law enforcement assistance.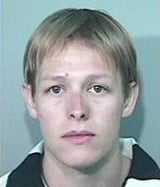 According to Knoxville's WBIR, 25-year-old Richard Anthony Smith (pictured) rang 911 at around 4.30am on Wednesday to alert the authorities to his predicament. When officers arrived, they found him trapped in said duct about 45 feet below the roof, having "repelled [sic] from a CH2 Huey"* onto the museum. Smith simply said: "Mission failed."
Once extricated, the spook - dressed in "camo top and bottom, black shirt and green hat" - elaborated that he was in fact a "special agent with the United States Illuminati, badge number 0931" ordered by "Director Womack" to "defuse and confiscate a Soviet-made MERV6SS-22AN warhead, with 14.5 kg of enriched uranium and a plutonium trigger, capable of delivering a 40-kiloton yield".
The device, he explained, was concealed in a bovine work of art in the museum's basement - or so he thought. In fact, once in the duct Smith "got a phone call from his 'agency' ... saying they had made a mistake, as the bomb is supposed to be hidden in a museum in Memphis".
Darrell DeBusk of the Knoxville Police said: "You know everyone is laughing about it, and obviously concerned about this guy and his well being and it was a serious situation and we had to handle it as such."
Smith faces a charge of aggravated burglary, the police report notes (pdf). Director Womack was unavailable for comment at time of publication. ®
Bootnote
* The police actually believe Smith "stood on an ash tray to get onto the stepped-design portion of the roof". No, we have no idea how that works, either.