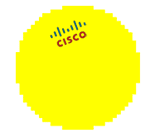 Cisco Systems plans to assimilate the instant messaging software maker Jabber Inc. into the corporate collective, bolstering the network giant's arsenal of enterprise communication and collaboration tools against the likes of Microsoft, Google, IBM and others.
Denver-based Jabber is the commercial software house behind the popular presence and messaging tool of the same name. The Jabber protocol acts as a bridge between the firm's own XML-based chat and proprietary Microsoft, AOL, and Yahoo IM clients — as well as various other enterprise communications systems.
Cisco intends to embed Jabber presence and messaging service across multiple platforms including WebEx Connect and Cisco Unified Communications.
Meanwhile, Jabber employees get embedded into the Cisco Collaboration Software Group.
"With the acquisition of Jabber, we will be able to extend the reach of our current instant messaging service and expand the capabilities of our collaboration platform," said Doug Dennerline, the veep of Cisco's CSG. "Our intention is to be the interoperability benchmark in the collaboration space."
Financial terms of the acquisition were not disclosed. The deal is expected to be completed in the first half of Cisco's fiscal 2009. ®