This article is more than 1 year old
Ten of the Best... MP3 speakers
Play it all night long
Round-up Portable loudspeakers are always a tricky proposition. Generally, small speakers produce an equally small sound. If you do try to pump up the volume then the sound tends to become distorted.
So there's a difficult balancing act between the size of the speakers and the quality and volume of the sound that they can produce.
Because of this, portable speaker designs tend to be very diverse. At one end of the spectrum you've got big fat systems, such as Harman Kardon's Go+Play boombox, which produces a huge sound but only barely qualifies as portable. Going to the other extreme, there are some tiny little speaker systems, such as Creative's TravelSound 400, which can last for almost three full days off a set of AAA batteries but produce fairly modest volume - albeit with quite good sound quality.
So before buying any set of portable speakers, you really need to decide what you'll be using them for. The travelling sales rep who needs to run presentations on a laptop will appreciate a compact model such as the TravelSound or Cygnett's GrooveCube, while a teenage backpacker may prefer the beefier sound of Logitech's Pure-Fi speakers.
With the iPod still dominating sales of portable music players, it's inevitable that many speaker systems are designed with the Apple player in mind. But in the interests of fairness, we've tried to focus on speaker systems that also provide secondary inputs, allowing you to use them with other makes of player too.
Altec Lansing SoundBlade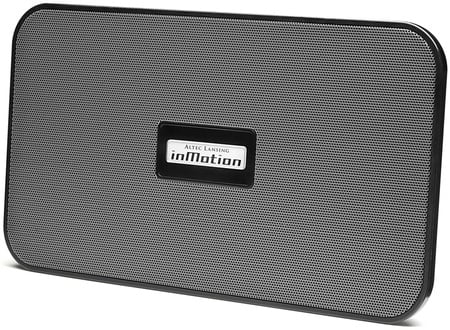 Altec Lansing makes a wide range of very good portable speakers, mostly designed for use with the iPod. However, the SoundBlade is an attempt to cast the net a bit wider. Measuring barely 2.5cm thick, the SoundBlade is an extremely compact and lightweight set of wireless speakers, primarily designed for use with Bluetooth phones - though there's an AUX input that will allow you to connect it to a regular MP3 player too. You can listen to music from your phone, or take calls by switching into speakerphone mode, which uses a built-in microphone to pick up your voice. Audio quality is good, with plenty of volume for such a slimline device, although a little more bass wouldn't go amiss.
Reg Rating 80%
Price £75
More Info Play.com
Creative TravelSound 400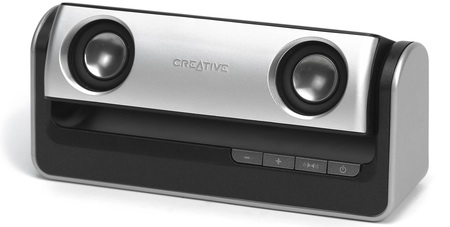 Most of these portable speakers will run off batteries, but are primarily designed for use in locations where you'll have access to mains power. In contrast, Creative's TravelSound 400 speakers don't include a mains adaptor at all, and are clearly designed to be picked up and carried around with you. This compact and lightweight set of speakers can run for more than 30 hours off four AAA batteries. The audio quality is good, but those little AAA batteries don't pump out as much volume as most of the other speakers in this group. Even so, the TravelSound 400 is still a good choice if you want to listen to music as you lounge by a swimming pool, or give an impromptu presentation with your laptop.
Reg Rating 80%
Price £41 - click to compare prices
More Info Amazon.co.uk
Next page:

Cygnett GrooveCube ReCharge