This article is more than 1 year old
Ten of the Best... MP3 speakers
Play it all night long
Kensington FX500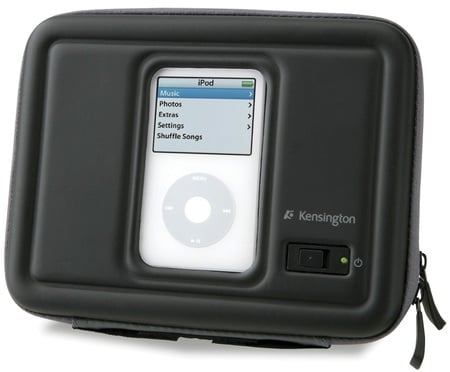 The FX500 is a cleverly designed combination of speakers and a splash-proof carrying case. The rectangular slot inside the case is clearly designed for an iPod, but you connect your player using a standard 3.5mm audio cable, so you can use the FX500 with other types of player too. However, the player's controls need to be on the front of the unit, as you can only access the controls through the transparent plastic panel on the front of the case. The speakers run off three AAA batteries, which should last for about ten hours. The audio quality and volume are both respectable although, as with a number of these smaller speakers, the sound does start to become distorted when you turn the volume all the way up.
Reg Rating 70%
Price £35
More Info Kensington
Logitech Pure-Fi Anywhere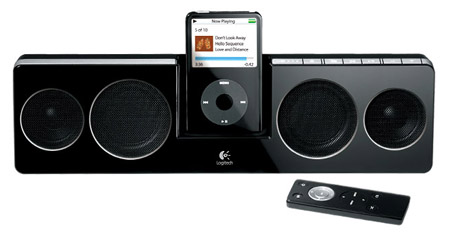 There are two versions of these speakers available. The 'Anywhere' model shown here has an iPod dock, but there's also a version called the Pure-Fi Mobile that ditches the dock and opts for Bluetooth wireless capabilities instead. Both models have a standard 3.5mm audio input as well. The unit is about 32.5 x 3.8cm, so it's not the most portable of portable speakers. There's none of the thin, tinny sound that afflicts many small speaker systems. But when we blasted out some bass-heavy tracks, the performance was passable but nothing more. With the volume up full, we've heard better from smaller and less expensive offerings. The Stereo XL mode makes things a little better, but not all that much. But it gets bonus points for the rechargeable battery and reinforced travel case to protect against bumps and bruises caused by reckless baggage handlers.
Reg Rating 65%
Price £100 - click to compare prices
More Info Logitech
Next page:

Nimzy Vibro Max