Samsung has announced its entry into the Small, Cheap Computer segment, following yesterday's Toshiba unveiling with a stylish SCC of its own.
Samsung's NC10 is fitted with a 10.2in, 1024 x 600 display that it stressed was a "non-gloss" panel, perhaps to distinguish it from Acer's shiny Aspire One screen, which the Samsung SCC rather resembles.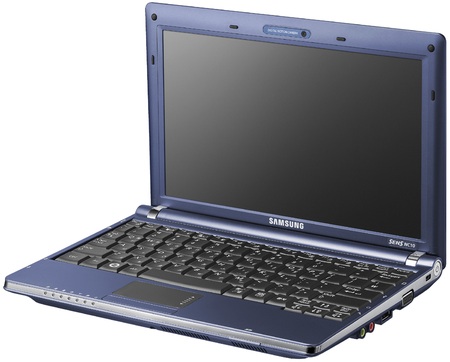 Samsung's NC10: inspired by the Acer Aspire One?
The Korean company confirmed the NC10 will ship with Windows XP, 1GB of 533MHz DDR 2 memory and a choice of 80, 120 or 160GB of hard drive storage.
Samsung didn't say whether there will be a Linux version, either initially or, as other SCC vendors have done, later once the XP version is out.
There's no SSD option, apparently, either - ironic, perhaps, given Samsung's keenness on the technology and the fact it's one of the world's biggest Flash producers.
Samsung said the NC10 will come with a three-cell battery that's good for up to 3.5 hours' runtime. But an optional six-cell power pack will take that figure to eight hours, it claimed.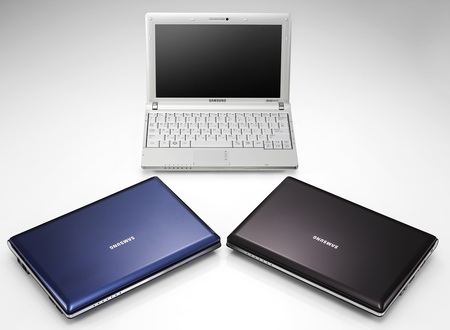 Available in white, blue and piano black
As yet, Samsung hasn't detailed which territories will get which variations of the specification. The NC10's other features include the SCC staples 802.11b/g Wi-Fi, Bluetooth 2.0+EDR, 10/100Mb/s Ethernet, three-in-one memory card reader, audio sockets, VGA port, 1.3-megapixel webcam and three USB ports.
With a three-cell battery the NC10 weighs 1.19kg. It measures 261 x 186 x 30mm.
Due to ship over here late next month, the NC10 will retail for around £329.
Netbooks and Mini-laptops Buyer's Guide
Samsung NC10 Photo Gallery