Microsoft could be in the final stages of renaming one of its Xbox 360 models - or introducing a new one - if a rather sketchy snap is to be believed.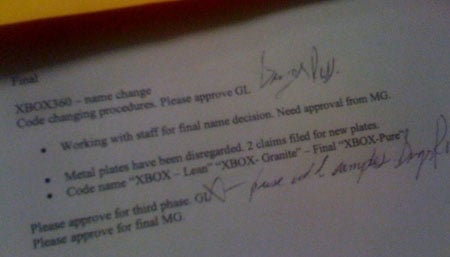 Metal plates have also been disregarded, whatever that means...
A snap of what appears to be an internal company memo has surfaced on website Cheap Ass Gamer (CAG). The memo talks about changing the name of an unnamed model, such as the Elite or Arcade, to "XBOX-Pure".
It also states that two other console names, "Lean" and "Granite," were considered before Microsoft finally settled on Pure.
The 'Lean' codename has led some pundits to speculate that Microsoft is preparing a new, skinny version of its console. Either that or its stands at an angle...
You'll need to take a hefty pinch of salt with this document, because exactly how CAG's source – named 'GilZ' – came across it hasn't been revealed. The signatures on the document are unreadable.
However, it's worth noting that a videogame called Pure is set to be released for the Xbox 360 on 26 September. A simple coincidence?
And CAG insists it's had piccies from GilZ before that later proved to be accurate images of the then unknown Premium.