Got an iPhone 3G purchased in the US, Canada, Mexico or Japan? Then you'll own one of Apple's latest USB power adaptors, and the company wants it back.
Apple yesterday announced it was recalling all of its "Ultracompact USB Power Adapter" because "under certain conditions the... power adapter's metal prongs can break off and remain in a power outlet, creating a risk of electric shock".
The company said it had "received reports of detached blades involving a very small percentage of the adapters sold". Fortunately, no injuries have been reported, it said.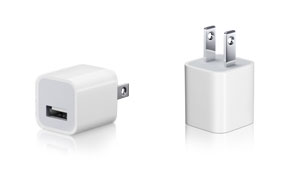 Apple's iPhone 3G power adaptor: pins may come off
However, it warned owners of the adaptor to stop using it immediately, and to charge their iPhones using a computer's USB connection until it can ship out replacements, which it has pledged to do, free of charge.
However, replacements won't ship until 10 October, Apple admitted.
The problem centres on USB adaptors with two rectangle-profile pins. In addition to the countries named above, the recalled adaptor has also been shipped to a number of South American countries, listed here.
The recall covers adaptors bundled with iPhones and sold separately.
The replacement process can be initiated online or through Apple's retail chain. Apple said it will require buyers' iPhone serial number.
Apple didn't say how many units are affected by the recall.
Sponsored: Ransomware has gone nuclear