This article is more than 1 year old
Mitsubishi electric car to get Iceland test run in 2009
What the Heckla?!?
'Leccy Tech It's not just New Zealanders who'll see Mitsubishi's electric i MiEV gently humming its way around their roads next year - Icelanders will too.
Representatives of Iceland's Ministry of Industry, Energy and Tourism this week shook hands with the Mitsubishi executives on deal that will see "fleet testing" of the zero-emission cars next year.
Iceland claims to get almost all of its electrical energy from hydroelectric and geothermal sources - since the the volcano/island is sitting slap bang on top of the Mid-Atlantic Ridge, we'd hope so - so it's naturally as keen as mustard on renewable resources.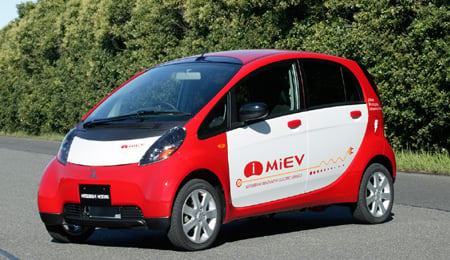 Mitsubishi's i MiEV: Bjorked?
Shifting to electric motoring would allow the country to reduce its need for fossil fuels even further - a move it's "aggressively" eager to make. Since it has to be shipped in, petrol's none too cheap in Iceland.
That said, according to guide book series Lonely Planet, gas is only 79p a litre - 132 Icelandic Krona, so the locals pay a lot less to run their cars than the Brits do.
It cuts both ways, though - we pay less for a pint of beer, which sets your average Icelandic boozer back just over £3.60. Bottled water - while we're at it - costs £1.50 a litre. Iceland's answer to Starbucks - actually, the Seattle chain's probably colonised this island too - want £1.68 for a cup of coffee.
Here endeth the Register Hardware geography lesson.
Back to the i MiEV (Mitsubishi Innovative Electric Vehicle) - it's due to go on sale in Japan next year.