Apple 2G iPod Shuffle
Two years on, still going strong
---
Review The tiny Shuffle remains the iPod Apple makes the least of a song and dance about, but it's no less a player worthy of buyers' consideration than its label-mates.
The second-generation Shuffle Apple revamped last week remains almost entirely the same as the version announced way back in 2006. The colour scheme has been changed again, but in essence a Shuffle bought, say, September 2006 will do exactly what one bought in September 2008.
As we noted in our 4G iPod Nano review, it it ain't broke, don't fix it.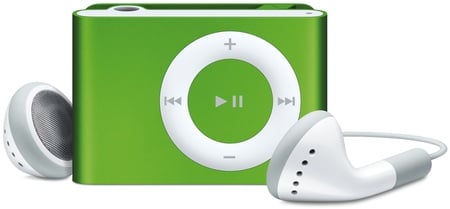 Apple's latest iPod Shuffle: clipped
One difference between then and now is the price. A 2GB Shuffle will set you back today £45/$69 - £10 and $10 less than a 1GB model would have cost you two years ago. Then, the 1GB Shuffle was priced at £55/$79. Now it's £32/$49.
It's not the best-value iPod. The new 2GB Shuffle works out at £22.50 a gigabyte, compared to £13.63 per gigabyte and £9.31 per gigabyte for, respectively, the 8GB and 16GB Nano. The Touch is £21.13 per gig (8GB), £13.69 (16GB) and £9.03 (32GB). That's the Flash line-up - the HDD-equipped Classic is £1.12 per gigabyte.
We had hoped that Apple might have been able to eke out a few more hours from the Shuffle's tiny battery, but no, now, as then, the manufacturer reckons you'll get about 12 hours' continuous playback out the gadget. Our testing over the past week or so gave us no reason to doubt that figure.