'Leccy tech BMW's electric Mini has been spotted pootling around Munich, its zero-emission power source revealed by the lack of an exhaust pipe.
That, and the words "Hybrid Test Vehicle" - "Hybrid Erprobungsfahrzeug" - seen written on the sides and the back...
Here's a pic snapped by Car magazine - there are more on its website, but, hey, a Mini's, a Mini.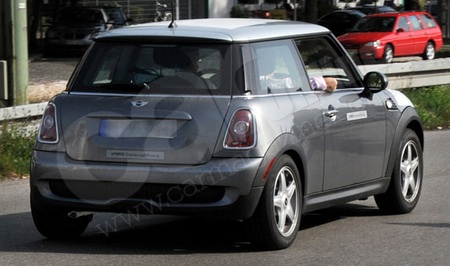 BMW's electric Mini: motoring in Munich
Image courtesy Car
The mag reckons BMW will announce the 'leccy Mini during November's Los Angeles Motor Show - a good place to do so given California's carbon dioxide-emissions legislation.
In March, BMW announced a plan to create a new vehicle for city drivers, dubbed 'Project i', with a view to coming up with zero-emission urban car for markets around the world.
Project i's development team is head by Ulrich Kranz, who was part of the effort to redesign the Mini. As such, it's hard to imagine the elctric Mini not being part of that Project.
Indeed, Car reckons 500 of the electric Minis will be produced next year to be leased to punters - back of the queue, back of the queue - to give them a real-world road-test.