Will Microsoft ever get the web?
Looking for converts
---
Remix 08 The UK Remix conference in Brighton last week was a local echo of Mix in Las Vegas, Microsoft's web development event. Some 500 developers and designers turned up in a tired Brighton Centre to hear Microsoft's web story, covering products like Silverlight, ASP.NET, Internet Explorer 8, Windows Live services, and the Expression design tools.
There are anxious undercurrents. Microsoft created Mix in an attempt to prove itself as a web company and a design company, but it is not, it is the Windows company. Another snag is that Remix came on the eve of the Professional Developers Conference next month, which meant that all the interesting stuff about .NET 4, Oslo modelling, and Windows 7 was kept under wraps.
It was still worth attending, thanks to the appearance of key figures like Principal Researcher Bill Buxton, who gave an energetic keynote proclaiming his love for Apple, Google, and the Nintendo Wii, and prophesying doom if developers do not get the design habit. He has only been with Microsoft two years and sounds refreshingly free of indoctrination.
Corporate VP Scott Guthrie gave an engaging hands-on demo of ASP.NET Model-View-Controller, a new technology now in preview, explaining its advantages for unit testing, cleaner URLs, and staying closer to HTTP model. ASP.NET MVC looks good, but it is interesting how the initial appeal of ASP.NET - that it makes Web programming more like Windows programming - has now become something of a liability.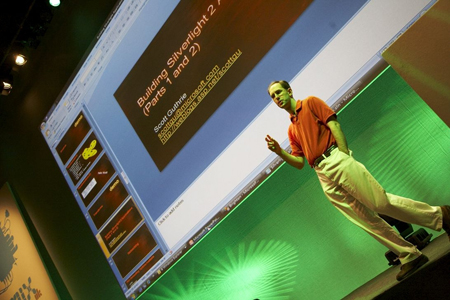 Scott Guthrie
Program Manager Mike Flasko presented ASP.NET Data Services, which exposes a REST API to Microsoft's database platform. This is great. But Microsoft's ever-growing range of database APIs is getting confusing again, after some welcome stability in ADO.NET.
The problem is not so much the Data Services, but what lies underneath it, which is primarily intended to be a new object-relational layer called the Entity Framework (though other data sources can be used via plug-ins). So what is happening to LINQ to SQL, which was last year's ORM layer from Microsoft. "LINQ to SQL is still being developed, but Entity Framework is the big bet," said Program Manager Elisa Flasko at the developer's panel.
There were some snippets of Silverlight news, or perhaps clarifications. Guthrie said the plug-in is getting 1.5 million installations a day, and that these will upgrade automatically to version 2.0, the .NET version, when it is released later this year. Unlike the beta, Silverlight 2.0 will have proper accessibility support, but H.264 capability will not appear until a future version. Guthrie also hinted that a 3D API is under development. Further controls, such as a Rich Text Editor, will be delivered as add-ons within the lifetime of version 2.0.
All of this sounds developer-oriented, and that is both Microsoft's strength and its problem. Its work with Silverlight and ASP.NET will be well received by organizations already on Microsoft's platform (of which there are plenty), but there is little evidence of converts from other Web platforms, or that its design tools can compete with the best from Adobe. Still, Microsoft does have Photosynth, which creates 3D images from 2D snaps. It was on display at Remix and looking truly impressive. Overall: mixed. ®