DRM-free music for your mobile phone and MP3 players sounds a good idea but not when an announcement is rushed out by SanDisk eager to to push up Samsung's bid price.
The SanDisk slotMusic announcement is a 1GB, fingernail-size, microSD-format card preloaded with DRM-free music from one of four music companies. It should be available, before Christmas, both online and in Best Buy and Walmart, with European availability to follow. Music will play at 320Kbit/s. An accompanying USB sleeve will enable PCs to store and play the card's music.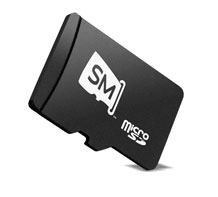 SanDisk slotMusic microSD card.
Apple's iPod and iPhone don't support microSD and not all mobilePhones have microSD expansion slots or support microSD cards. SanDisk's Sansa MP3 players do support microSD but SanDisk only has about 11 per cent of the mobile music player market, well behind Apple. The four committed music suppliers are EMI, Sony, Universal and Warner. They haven't said which albums will be available although 29 Universal albums may be according to the Wall Street Journal (needs subscription.).
The slotMusic card will be comparable to a CD in price. Watch this slotMusic website for more information. Right now there is no music, no price and nothing you can buy. SanDisk is gambling that we will still want to buy music in physical containers, even if they are tiny and easily lost, rather than downloading MP3 streams. If that's you then, for now, continue using iTunes and buying music in sub-album chunks.
Samsung bid update
The consensus view is that there are three potential white knights who could ride to rescue SanDisk from its unwanted-at-the-price Samsung bidder: Intel; Seagate; and Toshiba. SanDisk has a flash foundry partnership with Toshiba. Unfortunately Toshiba has announced hard times, expecting a first half loss, and has lowered its business expectations meaning that resources for a potential bid are diminished.
Intel's credibility as a bidder is reduced by it having offloaded its flash fabrication interests into two joint ventures: IMTF with Micron, and Numonyx with STMicroelectronics and Francisco Partners, a venture capitalist. It could encourage IMTF or Numonyx to bid as its proxies but neither have cash to spare and are fabs, not music player suppliers. Alternatively Intel could bid for SanDisk itself and fold the fabrication JV with Toshiba into Numonyx or IMTF if that's feasible.
Seagate expects to launch its flash products next year and has 100 engineers working on them which could indicate that it has both its flash chip and controller supply sorted out and doesn't need SanDisk.
Samsung may have the view that no-one is actually in a position to thwart its bid and SanDisk is there for the having however much CEO Eli Hariri protests. Will slotMusic affect the bid outcome? Dunno, but the four music suppliers are happy to proceeed with this pre-launch so they must be assured SanDisk's music-related operations will survive.
Update: Toshiba interested
Toshiba is reportedly interested in principle in a counter-bid for SanDisk but no activity initiating that is known about.®