SanDisk seeks to replace the CD with the SD
Buy music on preloaded Micro SD
---
SanDisk has launched a new flavour of storage across Europe and the US: Micro SD cards with DRM-free music already loaded.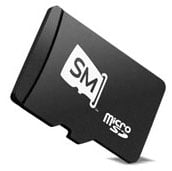 SanDisk's slotMusic cards: loaded with tunes
The slotMusic cards will be sold with the music compressed at 320Kb/s in MP3 format. The 1GB cards will also come with a USB sleeve to allow them to be read by computers too.
SanDisk's clearly pitching the idea at music fans that are either too lazy or too busy to download music themselves, the idea being that you simply buy a pre-loaded Micro SD and then slot it into your mobile phone or MP3 player.
SanDisk hasn't announced which bands will feature on the Flash cards, but said that it's signed agreements with a selection of big-name record companies, including EMI, Sony BMG and Universal.
UK availability or pricing hasn't been played back yet.