Dell has admitted it won't earn much return on the energetic greening of its operations and products, until CIOs get paid to have greener data centres.
Michael Dell, Dell's founder, chairman and CEO, said in a briefing with journalists in London today, that the underlying interest in green matters is growing at a fast pace.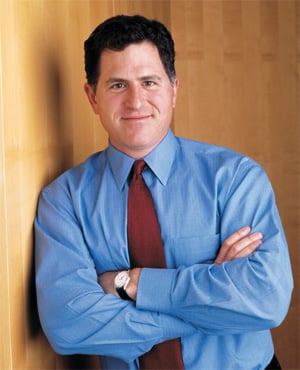 Racing ahead of customers: Michael Dell
But he added: "CIOs say the energy cost is 'not in my budget'."
That means that Dell, after a breakneck rush to green its product range, is offering products to CIOs who do not yet have an incentive to buy them.
Dell thinks "this is changing. CIOs are being held accountable." Asked if, when CIOs do get an energy budget responsibility, Dell would be there waiting, he said simply: "Yes."
David Marmonti, a Dell SVP and EMEA president, said Dell was going to continue greening its processes and products: "Dell intends to be the greenest IT company on the planet. ... By 2010 our client products will be 25 per cent more efficient than they were last year."
Dell is working continuously to reduce its green footprint, replacing styrofoam packaging for example, working with Liebert to reduce data centre energy consumption, and designing a new blade server to be 25 per cent more energy efficient than its predecessor.
Marmonti said: "Customers are concerned about energy consumption. They are looking for IT partners who can enable them to be more green than they were historically. ... We think it's important to us to keep our lead."
The picture is one of Dell becoming green a long way in advance of many of its customers.
The maximum business benefits from this prolonged and emphatic green charge have not come about because its customers' CIOs don't get paid to have greener data centres. Only when - as Dell hopes and expects - they do get measured in that way will it earn its green dividend. ®
Similar topics