This article is more than 1 year old
Google: The Satan Phone cometh
T-Mobile G1 is go
And the Lord said unto Satan, Whence comest thou? Then Satan answered the Lord, and said, From going to and fro in the earth, and from walking up and down in it.
- Job 1:7
The Jesus Phone's could-be nemesis has arrived. In New York today, T-Mobile unveiled the G1, the first consumer device based on Google's Linux-derived mobile OS, Android. As rumoured, it's a functional-looking smartphone from HTC with slide-out qwerty keyboard and touchscreen.
T-Mobile execs said it'll launch on both sides of the Atlantic "at the end of this year", locked to their network. In the US it'll cost $179 with a two-year voice and data agreement in T-Mobile and third-party stores, come out on October 22 and be backed by the network's biggest marketing campaign ever.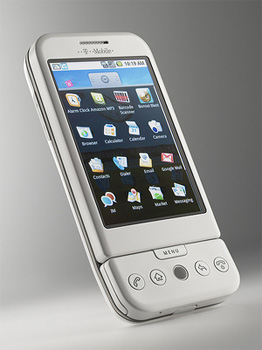 i, i? What's all this then?
The G1 will land in the UK at the beginning of November and be free on monthly tariffs at £40 and over. More details of UK price plans are yet to be revealed. The rest of Europe will have to wait until the first quarter of 2009.
The phone has a typical smartphone feature set: Wi-Fi, 3 megapixel camera, full zooming (WebKit-based) web browser, quad-band GSM and dual-band UTMS. There's support for EDGE, standard 3G , and HSDPA. Grasping the VoIP nettle, T-Mobile promises a seamless handover between 3G and Wi-Fi networks. The touch interface is less slick than the iPhone's, only able to handle single finger.
Out of the box there's close integration with Google's web services: search, YouTube, GMail, Calendar, Maps, Talk and Streetview are all on board. Amazon has been brought in to offer iTunes-style mobile music purchasing.
There's no Microsoft Exchange application yet. T-Mobile said it expects third parties to develop such functions soon.
The vanilla G1 is compatible with Word documents and PDFs but T-Mobile USA CTO Cole Brodman said: "We expect it to be more of a consumer device, not necessarily an enterprise device." He said there will be no desktop application for synching with PC apps and files.
Google was on hand to talk up Android's open source chops. The platform will be open-sourced when the first G1s hit the shops, as demanded by its Linux roots. All the announced details are here. ®