Finns develop mobe sleep-cycle alarm app
'Arousal Clock™' wakes you up when ready to go-go
Finnish academics have developed a mobile phone app which monitors sleep patterns and delivers a morning alarm when the user is naturally ready to wake up.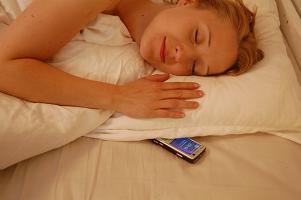 The "Arousal Phone" in action. Pic: Smart Valley Software.
Called "HappyWakeUp®", the tech uses the phone's microphone to monitor noises made by a sleeper and so determine how deeply they are slumbering at any given moment. If a person reaches a suitable point in their sleep cycle, the alarm will be triggered slightly early for a less traumatic awakening. If not, it will go off anyway at the set time and the user will just have to cope with being wrenched suddenly from a deep snooze.
"It is rather an arousal clock than an alarm clock," according to Finnish slumber expert Tapani Salmi, MD, PhD. (The Scandinavian snooze kingpins have in fact also trademarked ArousalClock®.) The technology was developed during postgrad research by Tampere University of Technology brainbox Väinö Virtanen.
"The alarm signal during deep sleep is stressful," says Salmi. "But with the smart alarm clock this is avoided. After a trial period of some days or a week, you start to notice the benefits.
"Pleasant mornings help avoid stress in your body and brain," adds the good doctor. "Elevated stress levels are associated with several risk factors and even diseases such as hypertension and problems with the heart and brain."
HappyWakeUp® software can be downloaded for Nokia phones running Symbian S60 3rd edition FP1 platform. A permanent licence is a tad pricey at €50, but you can try it for a week for €2. ®