This article is more than 1 year old
Hands on with the T-Mobile G1
An in-depth and hands-on look at the phone everyone's talking about
First Look The G1's looks, specifications and, crucially, launch date have already been widely reported. So, that just leaves one question on everyone's lips: what's the Android-based talker actually like to use?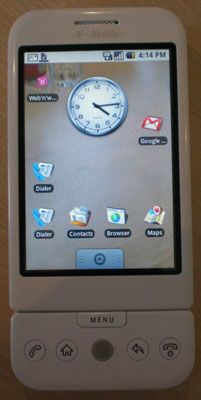 The home screen on T-Mobile's G1
At yesterday's launch, Register Hardware tested the phone and we quickly found ourselves immersed in the new, but somehow strangely familiar, world of Google's Android platform.
If you've used the iPhone or a Windows Mobile 6.1 handset before, then you'll feel at home with Android because it seems to incorporate elements from both rival platforms.
For example, the G1's home screen lets users move their most frequently used application icons, such as camera, wherever they like. Each time an icon's moved, haptic feedback makes the phone gently vibrate. The clock's position can also be moved.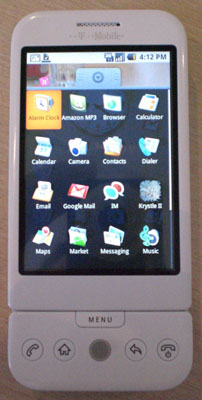 Icons on the application sub-menu can be moved around
More applications than those shown on the home screen are hidden away in a collapsible sub-menu, which lists everything from Google Maps and Messaging, to a bizarre animal game called Krystle II. Each icon's position can be moved about onscreen or dragged off and plopped onto the home screen.